Best Fitness Apps for Windows 10
Windows 10 is an awesome operating system that has almost every kind of apps on Microsoft Store. If you are using Windows 10, you can find a beautiful app store called Microsoft Store. Following that, you can search for an app and install it accordingly. On the other hand, health is the biggest wealth, and you should always take care of your health – no matter what. If you are conscious about your health, you should check out these best fitness apps for Windows 10 so that you can get the most out of your Windows 10 machine.
Best Fitness Apps for Windows 10
1] Food Diary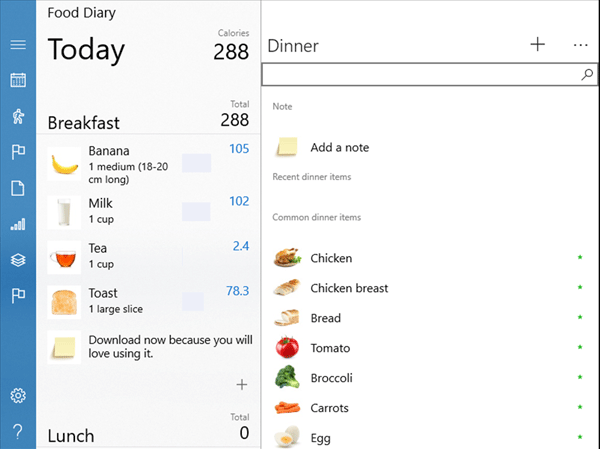 For a good health, you need to eat properly and that is the first thing of fitness cycle. If you do not eat properly, your body won't energy and hence, the workout will feel like torture. Hence, you should have an app that can tell you what you should eat and when you should do that. Food Diary is a simple application for Windows 10 that allows you to check which food can give your more calorie and so on. The best thing is you can track weekly or monthly report from a comprehensive window. After opening this app, you need to choose what you want to do. For example, you can lose or gain weight, track specific nutrition goals, and more others. Therefore, it will show you various tabs to check different things as mentioned earlier.
2] HealthVault
HealthVault can help you track every health information in a convenient way. From calorie to cholesterol to blood pressure, you can track every information using the same application, which is available for Windows 8, 8.1 and Windows 10. The user interface of HealthVault is pretty good and you should not get any problem while using this app for the first time. You can enter details about your health in this app and it will process all the data to show what you should eat and when you should eat. The best thing is you can check which food can give you more calorie, fat, protein, etc. For instance, you want to know how much calorie or protein is there in a scrambled egg. That info is available in this app.
3] Seven – 7 Minute Workout Challenge
Daily workout is must when you want to be fit and healthy throughout a day. it doesn't matter what you do or how busy your schedule is, you should have a daily workout session to get fit. Seven – 7 Minute Workout Challenge helps you do various things like push-ups, step-ups, squads, triceps dips, plank, etc. within a limited time. You do not have to count the time since this app will do that job for you and it works smoothly on Windows 8.1 and Windows 10. You do not need any internet connection to utilize this application. On the other hand, you can play various songs while working out. The best thing is if you have multiple Windows 10 devices, you can synchronize them all and all the data will be shared among those devices.
4] Runtastic Six Pack
Runtastic Six Pack helps you get a better body structure within a couple of weeks. However, you must have to follow the things mentioned in this app. From daily workout to specific session, you can perform anything with the help of this free application that is available for Windows 10 computer only. Being said that, you can download it to 32-bit machine as well as 64-bit machine. Abs Trainer, Exercises & Custom Workouts are available in this app. On the other hand, you will get seven-minute workout challenge as well that consumes very less time but gives you more result. The best thing about this app is you can find HD videos, where it will show how to do a thing properly. From sit-ups, knee touch, core twist to stretch crunch, crunch, hit drops, everything can be possible with the help of Runtastic Six Pack app for Windows 10.
5] Yoga Lover
As the name suggests, Yoga Lover lets you do yoga, which is very important if you want to be fit all the times at any cost. Yoga can help you in different situations. From living a healthy life to diet, you can get assistance from doing yoga every day. Yoga Lover application offers more than three hundred poses in the library. On the other hand, it will show more than hundred diet recipes. According to the developers of this app, all the poses are verified by different professional yoga teachers around the world. In this app, you can find images so that you can do that pose without any problem. All the photos are in good quality and you should find any problem at all. Talking about availability, you can download Yoga Lover for Windows 10 Version 10240.0 or later version. If you are using 32-bit machine, you cannot download it since this is compatible with 64-bit architecture only.
6] Fit Diary
Fit Diary is probably the simplest application in this category since it doesn't show anything to eat or so. However, you can enter all the data manually and keep everything on track. For example, drinking of water is very important to your health and you should drink water everyday. Fit Diary can help you track your water consumption with ease so that you can check when you have reduced the water consumption and so on. On the other hand, you can measure your weight and keep that thing on track as well. Regarding the availability, Fit Diary is available for Xbox One, Mobile, HoloLens, Hub as well as Windows 10 computer. You can download this app on 64-bit as well as 32-bit machine.
These are some of the best fitness and health apps available for Windows 10. You can download each one of them based on your need and check which one works better for you.