Best Pre-assembled Gaming PC Builds In 2020
If you love to play games on the computer, you might have an interest in different PC builds. Many people spend countless amount of time to assemble a computer to play games. If you do not want to be someone like that, you should check out these gaming PC builds that you can buy at an affordable price. Although these builds have only the 'gaming' tag, you can do more than just gaming. In other words, these builds can do any work you want to do.
Please note that these following setups do not include the monitor. You need to choose the monitor separately.
Best Gaming PC Builds
1] CyberpowerPC Gamer Xtreme VR Gaming PC – $1799
This build probably has everything you might need. No matter how big your game is, you can play that on this computer without any issue. The case of this build is the first thing that you should check out, and that is because of the build quality and appearance. It has tempered glass on the side so that it looks pretty good when you turn on the machine.
Talking about the processor, it has 6GHz Octa-core Intel Core I7-9700K processor alongside the Intel Z390 motherboard to power up the machine. On the other hand, you can see 16GB of DDR4 RAM, 1TB SSD, etc. As it is a gaming build, you need an impactful graphics card, and that is also included in this machine. To be precise, you can find an 8GB GeForce RTX 2080 Super graphics card. The same build also comes with RTX 2070 Super, but it is recommended to go with the higher model when you are spending so much money.
Another essential feature of this build is that you can find liquid cooling, RGB 7-colour gaming mouse, RBG lighting in the fans inside the cabinet. You do not need to buy an operating system for this machine as it included the original Windows 10 Home edition for you.
The overall appearance of this build is top-notch, and you should not find any issue while playing any game. Check the deal
2] Alienware Aurora R8 – $1797
The Dell Alienware series is a popular series among gamers and heavy-duty PC users. Therefore, this build is from Dell, and there are multiple reasons why you should take a look at this gaming PC build.
Let's get started with the processor. It comes with 8th Gen Intel Core i7 8700, which is ready to produce 4.6GHz power without any issue. The processor will be kept on the MicroATX Z370 motherboard so that you can get some more power. Apart from that, it has 32GB DDR4 RAM, 256GB SSD, 1Tb HDD, Wi-Fi support, etc. Talking about the graphics, it includes 8GB of NVIDIA GeForce RTX 2080 graphics card so that you do not face any lag or anything while playing your favorite game. Alienware 850 Watt Multi-GPU PSU will provide power supply to the whole build. Like the first one, it also has liquid cooling so that you do not get any heating issues.
Talking about the overall appearance of this build, it is probably the fanciest build you can find on this list. It might not have the tempered glass on the side panel, but it will attract you for sure. Check the deal
3] Omen By HP – $2513.78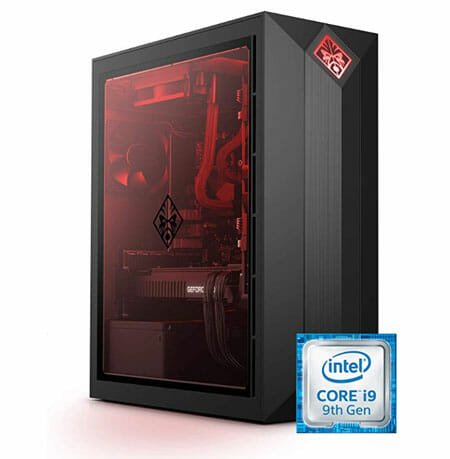 If your gaming list contains Dota 2, Grand Theft Auto V, Overwatch, PUBG, etc., this build might be suitable for you. It got everything to fulfill your demand – from inside to outside. Talking about the outside, it looks clean with the red color lighting and glass panel on the left side.
Now, regarding the central part, you are getting an 8-core Intel Core i9-9900K processor with 3.6Ghz speed and Intel H370 Chipset to spruce up the experience. It has 16GB DDR4 RAM, 1Tb SSD, and pre-installed Windows 10 Home. For the display function, it is offering 11GB NVIDIA GeForce RTX 2080Ti graphics card. It also has 750W Platinum PSU so that you do not face any issue related to the power supply.
Some people might not like the one-color lighting, but it looks quite good in real life. However, it could have been better if they allow users to customize the light according to the desire. Check the deal
4] Corsair Vengeance 5182 – $1999.99
The case of this build is big, and it is more like a combination of two cases. However, the RGB lighting looks fancy and not cheap at all. It has a glass panel on the top and left side to showcase your build to other people.
Regarding the performance, it has Octa-core 4.7 GHz Intel 9th Gen Core i7-9700 processor with a B360 chipset. Along with that, you are getting 16GB DDR4 RAM, 480GB SSD, 2TB HDD, and Corsair TX650M 650W 80 Plus Gold PSU. The graphics is always essential for a gaming PC, and that is why they included 8GB NVIDIA GEFORCE RTX 2070 in this machine.
It got the RGB lighting everything, including the RAM, and that is why it looks really good in low light areas. Check the deal
5] SkyTech Oracle X – $1099.99
If your budget is not very high, but you want to get a build for gaming purposes, you should check out this one. The case of this build is unique, and the AMD processor power it.
To be specific, you can find 3.7GHz Octa-core AMD RYZEN 7 2700X processor, B450 Motherboard, 16GB DDR4 RAM, 240GB SSD, 1TB HDD, etc. For the power supply, it has Corsair 650W 80 Plus PSU. Like some other builds on this list, you do not have to install the operating system separately unless you want a fresh installation, and that is because it comes with pre-installed Windows 10 Home.
It looks excellent because of the RGB light. The fans are bight enough to make your entire build more than impressive. Check the deal
If you do not know which motherboard or processor you should buy, it is recommended to take advice from a professional, read forums, blogs, etc. before visiting Amazon and purchase something. However, if you know about the compatibility, you should opt for a custom build instead of pre-built.
Read More: Best 5K And 8K Monitors For Gaming And Video Editing