Best To Do List Apps for Windows 10
It doesn't matter whether you use mobile or computer a lot or not, you should always have a to-do list app or note taking app so that you can take quite notes or remember all the things those are important. There are many people, who often forget to do something important in their busy schedule. If you are one of them, who often forget important tasks to do, you can head over to this list, where you can find best to do list apps for Windows 10. Almost all these apps are available for free, and you can download them without any problem.
Best To Do List Apps for Windows 10
1] Todoist
Todoist is probably the best to-do list app for Windows OS that is available for Windows XP and all the later versions including Windows 10. It doesn't matter how many items you want to add to your list; you can certainly manage that with ease with the help of the Todoist app for Windows. If you have used the Web version of this app, you will not find any major difference between that and desktop version. If you are using Windows 10, you can download the app from Microsoft Store. Otherwise, you can download it from the Todoist website. The FREE version comes with all the essential options. However, if you want to expand it more with unlocked functionalities, you can opt for PREMIUM edition that costs you around $29/year. You can set a reminder, import from CSV, work with your team, assign tasks to your team members and more others.
2] Wunderlist
Wunderlist is a cross-platform to-do list app available for Windows, macOS, Android, iOS and so on. The app for Windows looks pretty cool, neat and clean. In fact, you cannot find a major difference between mobile apps and desktop apps. Talking about features, you will all the regular options like a reminder, note taking interface, team management, task management, and so on. The best thing about Wunderlist is they have waived the premium charges, and that means you can use all the PRO features by having a free account. The UI is uncluttered and therefore, you should not get any problem while using it for the first time as well. Managing team members with tasks are quite easy with Wunderlist.
3] Microsoft To-Do
Microsoft To-Do is comparatively newer application that is available for Windows 10. Microsoft To-Do is popular because it comes with a smooth material user interface with minimum but essential features. You can manage various tasks with label. In other words, you can categorize all the tasks based on your preference and type. This is possible to get reminder at preset time as well. On the other hand, you can download Microsoft To-Do app on Android, iOS as well as Windows 10. If you are using Windows 10, you need to open the Microsoft Store to get the app. To be more specific, you should have Windows 10 V14393 or higher version. According to the developers, you can plan your work schedule better with the help of this simple tool.
4] Google Keep
There is no doubt that Google Keep is one of the best to do list and note-taking apps out there, which is being used by millions of people from across the globe. No matter whether you want to create a grocery list or personal to-do list, you can use this service. However, the drawback is Google has not released the Google Keep app for desktop. Nonetheless, you can download the Google Keep Chrome extension and hence, you can use it for setting up your reminders and so on. You can quite save something to Google Keep, create lists, manage existing lists and so on. The UI of Google Keep has no clutter, and therefore, you should not get any issue while using it. The best thing is you do not need to create any account if you already have a Google account.
5] Microsoft OneNote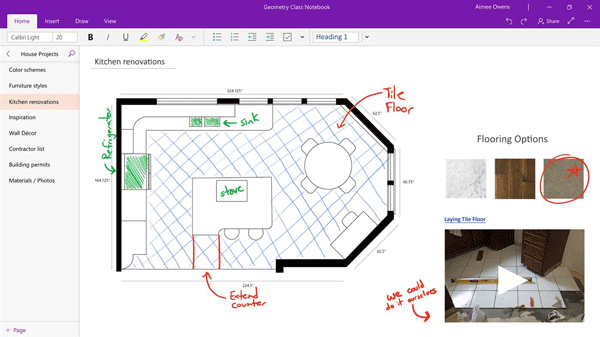 Although the popularity of OneNote has decreased dramatically since the launch of Microsoft To-Do, still there are millions of people who use Microsoft OneNote as their primary note-taking app. Taking Not only note but also it helps you creating to-do list. OneNote is probably the most feature-rich note taking the app out there. Like Google Keep, you do not have to create any additional account if you already have Microsoft account, e.g., @outlook.com or @hotmail.com email account. The user interface has all the features you might need for creating and customizing a list. You can categorize your notes based on type, create checkbox for the to-do list and more others. The best thing is you can synchronize your notes across multiple devices running the same Microsoft account.
6] Trello
If you do not need a free solution and this is ok for you to opt for a PAID app, you can choose Trello, which is available for free as well as PAID version. This is meaningless to mention that the free version comes with limited functionalities and you will not be able to access everything offered by Trello. On the other hand, the BUSINESS CLASS version that costs you around $9.99/user/month can help you get all the features you might want. Trello is best if you have small as well as a bit large team in your business and you want to monitor their tasks from top to bottom.
That's all! These are some of the best to-do list apps for Windows 10 as well as other versions. Hope you will like them and use them to increase productivity.