Calltag helps to Send Message to Contact before Calling
Do your friends, boss, or anybody often reject your calls? Don't worry. It is not just you. Most of the people have been confronting this issue as this is the era of instant messaging. A large number of people wish to use different instant messaging apps rather than call. Now we scruple to receive a call because it wastes our time. When you are hanging on with someone on your mobile, it becomes difficult to do another thing in the meantime. However, you can simply do anything even when you are chatting with your friends on WhatsApp or Facebook. This is a common scenario.
To get rid of this problem, some developers have built and launched such an extraordinary application that will let you send SMS before calling.
As per them, you ought to tell your contacts why you are calling. If your intension is paramount for them, they will surely pick up your call. That is where Calltag comes in. You can send various tags like #lunch, #important, #hangout, #urgent and more others using Calltag app. This is also conceivable to write custom message alongside those tags.
Calltag is now available on iOS and Android. You must have Android 2.2 and iOS 7.0 or later version to install Calltag. Both the apps are accessible at free of cost.
Get Started with Calltag
Actually, Calltag works like a third party or additional dialer app for mobile. The entire work process of Calltag is exceptionally simple and straightforward. In a simple line, Calltag sends a custom or pre-written SMS or iMessage to your contacts even before calling the number.
At first, you should know everything about the visual outline. The UI looks something like the new material design. That means, you can find a flat user interface. Then again, this is a full screen application and all its options are managed very well.
To start utilizing Calltag on your compatible mobile, at first, download the app on Android or iOS. This app asserts some basic information to get started. For instance, you will need to enter your name and place.
After that, you can select a readymade message to send to your contacts. This is also possible to compose your custom message.
To devise your own message, just swipe from right to left until you get the following screen.
This screen will aid you to write your message. This is suggested to keep it short and simple.
After that, it will ask for your contact. You can either enter a new mobile number or select one from Contacts.
To select any contact from your phonebook, just tap on the screen and type the name. Alternatively, you can type the number if that is not saved in your phonebook.
Then, you will have to select a tag and custom message. To select any tag, just tap on preloaded tag(s).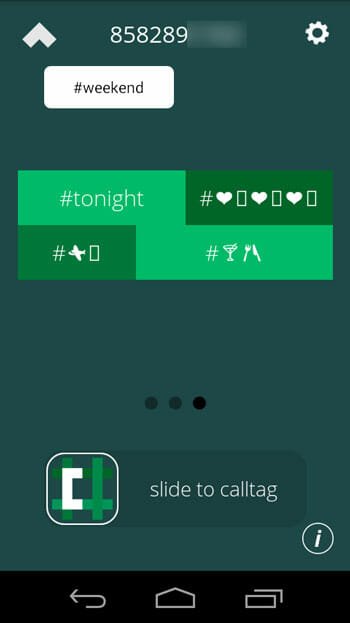 After doing everything, you will have to swipe the Calltag button that is presented on your screen.
That's all! By default, Calltag makes the call after 10 seconds of sending the SMS. You can change it from Settings.
The core concept of this app is great since it helps users from being rejected. What do you think about this app?
P.S.: Your carrier may charge different for sending the SMS. It varies from Carrier to Carrier as well as country to country.