Downloading Universal Office Apps Word, Excel and Powerpoint to Windows 10
Microsoft has released Universal Office Apps i.e. Word, Excel and Powerpoint apps for users of Windows 10 Build 9926. This is great news as most of the Windows 10 Technical Preview users would not have expected to get Microsoft Office apps with the preview build versions of Windows 10. They have been given a pleasant surprise with the name change as well i.e. Microsoft Office apps are now Universal Office apps or Universal Microsoft Office touch apps.
Members of Windows Insider Program who have been excited enough to try out Windows TP can now get access to preview of Office for Windows 10. This preview version does not contain OneNote and Outlook yet, however, the final version of Universal Office for Windows 10 that will be released later is slated to contain these two along with Microsoft Word, Powerpoint and Excel.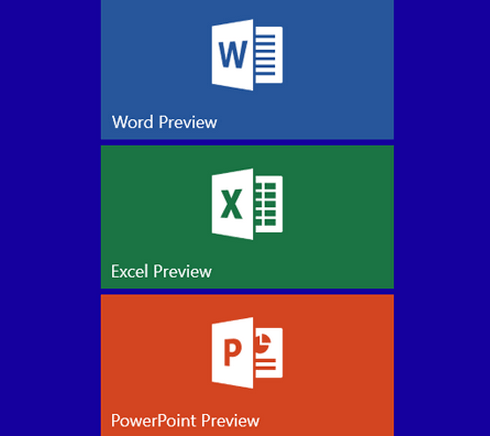 In this article, we shall check out how we can download Universal Microsoft Office Apps for Windows 10 from Windows Store Beta i.e. steps to install Universal Office Apps in Windows 10 preview build 9926. It is encouraging to note that these Office apps are already mobile-optimized as well as touch-optimized. In fact, several smartphones and tablets running Windows 10 OS would contain these new Office apps as pre-installed.
Installing Word Preview in Windows 10
First step is to ensure you have signed in Windows 10 Microsoft account and not local account. It is possible that if you have applied the trick to sign-in automatically in Windows 10 build version, you may still be logged in with your local account. In such a case, you will be prompted to sign-in to your Microsoft account.
Then, you need to open the Windows Store Beta. This can be done in two ways: Either clicking on the Store icon on Windows 10 taskbar or by clicking on the Store Beta tile on Windows 10 start menu. Once it opens up, we can search for the Word Preview app and it would appear in the search results. Then, select the option 'free' to kickstart the Microsoft Word Preview download process.
Once the Preview of Word app is installed successfully, you can access it by through the Start Menu. That's it! It is indeed a very simple installation process. Using this Word app, you can create documents, edit, review as well as mark-up them. Moreover, in read mode, the new Insights for Office feature provides you with lots of images, web references and other similar online material.
Alternatively, the direct installation link for Word Preview is here: Word Preview from Windows Store Beta
Dowloading PowerPoint Preview in Windows 10
To download Microsoft PowerPoint Preview, one can follow exactly the same process as used for Word preview. One just needs to search for PowerPoint app from Windows Store Beta instead of Word app. Rest of the steps would remain the same. Once this app is installed, you can use it to create as well as edit presentations. This one includes an innovative Presenter View for presenting slides as well as annotating them on the move.
If you do not want to follow all the steps, you can use the direct download link for PowerPoint preview as:PowerPoint Preview from Windows Store Beta
Installing Excel Preview in Windows 10
Again, you can follow the same steps as for Word or PowerPoint preview and get your Excel preview app downloaded successfully. Using this touch-optimized Office app, you can create as well as modify spreadsheets, analyze and view data charts, etc.
As a second option to avoid following the steps, you can use the direct install link for Excel preview as: Excel Preview from Windows Store Beta
As seen above, the process to download Universal Office Apps for your latest Windows 10 build version is fairly simple. I am sure you are going to love accessing these high-performance Office apps. Please feel free to share your opinion about them.