Fhotoroom: Sharing and Photo Editing App for Windows Phone
We normally use our Smartphone to capture photos. Image quality depends on the camera our Smartphone supports. We sometimes feel that, captured image is not as good as we want and we go for installing many photo editing apps. If you are a Windows Phone user and want to edit captured images, then I would suggest you to choose Fhotoroom App. This has many photo editing features and effects that are to be added. Fhotoroom App for Windows Phone apart from allowing you to edit, you can share edited images with communities and Social Networking Websites making it the best sharing and photo editing app for Windows Phone.
Fhotoroom App:  Sharing and Photo Editing App for Windows Phone
Windows Phone gives you the basic photo editing features, but if you want to have more features and editing tools, then Fhotoroom App is the best choice. It is very easy to use and can add many frames and effects to make your photographs look beautiful and attractive.
Recommended: Best Photo Editing Apps for Android- Capture, Edit, Store and Share
There are many communities provided by Fhotoroom App where you can follow anyone and can share your pictures with those communities. It allows you to hit like and comments on photos shared with you through communities. You can even share with Facebook, Twitter and other social media.
Features of Fhotoroom App
Features which made Fhotoroom App the best sharing and photo editing app for Windows Phone are mentioned below,
Editing Features
Photo editing is possible till 22 MP.
18 Non-Destructive filters are provided.
Unlimited Undo and Redo.
You can see before/after editing.
Edited pictures can be saved local to your phone or export via One Drive.
Can export to any other App.
Camera and Sharing Features
You can pin camera to the start screen and can focus/capture picture with just a single tap. Wide ranges of communities are available for Photographers. You can like, comment or share photos with these communities. It allows you to create Lock screens and share links to other apps.
Install and Signup Fhotoroom App
Fhotoroom App is simple and easy to use. Download it from the Windows Store and install it. If you want to use it for photo editing, then there is no need of creating an account. But, if you want to share with communities, then you need to create an account.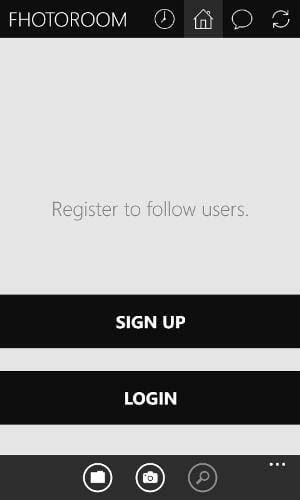 Once everything is done, it shows recent, popular and interesting photos from communities you have joined. There is huge number of photos from all over communities. If you want to view more and more photos, just hit on the Refresh button and you can see new pictures.
You need to create and signup, if you want to follow or message others. Then, you can open any picture from the communities you follow and can hit like, comment or even share.
Get Fhotoroom App from Windows Phone
Conclusion
Fhotoroom App is the best sharing and photo editing app for Windows Phone. It has simple interface which is easy to use and edit/share pictures over communities. It gives you more filters, frames, effects and many more to make your captured images look awesome. If you have anything to add, please do share with us through comments.