How To Delete a Facebook Photo Album
Reader question:
Jessica from LA asks:
How to delete a Facebook photo album? I do not see any link which can completely delete an album from my Facebook profile. I can certainly delete all the photos of an album one by one, but is their any easier method? I do not want to use any desktop application for Facebook and neither do I want to download the photos to my computer. I just want all the Facebook photo albums to vanish such that none of my Facebook friends are able to view or download them.
Delete a Facebook Photo Album From Your Account
Actually there is a link to completely remove all the pictures from a particular Facebook album. Some novice users may not be able to find the "Delete album" link, so here are the steps that should be followed:
1. Log in to your Facebook account, click profile and then click "Photos" from the left sidebar.
2. You will arrive at your Facebook photo album page, where you can select the photo album you want to delete.
3. On the Photo album page, do not click on any photo. Instead, click the link at the right bottom that says "Edit Album Info", as shown below: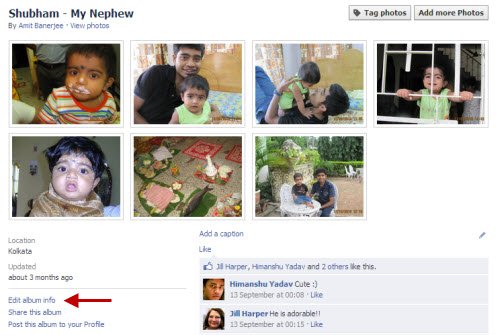 4. On the next page, you can change the location and description of the photo album. In order to completely remove the picture album from your Facebook profile, click the "Delete" tab and then hit the "Delete" button.
Important: Be extremely careful and completely sure before deleting any of the photo albums uploaded on your Facebook profile. Once all the pictures or images from an album is deleted, there is no way to recover deleted photos in a Facebook photo album. Once deleted, the photos will be deleted forever, there is no Recycle bin or Trash container, so be very sure that you want to delete the photos. It's advised to check all the images one by one and see whether you have a back up copy of the photos stored in your hard drive or elsewhere on the web e.g Picasa,  Windows Live Skydrive, Dropbox, Mozy etc.
Turn a Facebook Photo Album Private
Let's say you are very concerned with some of the uploaded photo albums in your Facebook profile and want to delete them. Instead of removing the images permanently, you can change the privacy setting of the photo album from "Public"to "Private".
When the privacy setting is in place – the photos will still remain intact in your Facebook account but other users won't be able to see any of the photos in that Photo album. This is a neat way to protect your Facebook photos, without having to download or back them up and without having to delete the photos from your Facebook account.
Facebook imposes no such restriction on the number of Photo albums or Pictures uploaded, so it might be a great idea to use Facebook as a storage service for images. No need to delete a large collection of photos – just turn their privacy setting from "Everyone" or "Friends" to "Only Me".
When the album privacy s]level is private, your friends or even strangers would neither be able to view or download your photo albums or neither they will be able to embed the images in any website or blog. You may further allow only specific friends to view a Facebook photo or album or can share a Facebook photo publicly, with people not on Facebook.
How To Edit a Facebook Photo
If you want to change particular attributes of a Facebook photo, there is no need to download the image and use any image editing program like Irfanview, Photoshop or GIMP. You may try out the simple photo editing Facebook application which can be used to edit any Facebook image without downloading. Basic fixes may be applied e.g coloe correction, fixing red eye, cropping, adjusting width, height, black and white effect and so on.
Related reading:
1. Facebook profile image trick with thumbnails and tagged photos
2. Stop Facebook photo and Video tagging – avoiding spam tags.