Top 6 image Editing Apps for Windows Phone 10
Those days have already gone when you needed to have a professional, who can edit images as per your requirements. Nowadays, this is possible to give any type of effect to the image with the help of countless online and offline image editing apps. No matter, whether you are a Windows user or Mac user or Android user or a Windows Phone user, you can certainly get loads of image editing apps on the web. But, choosing the best one is the most arduous task since not all the apps have all types of effect.
This is when you need to read the features of best image editing apps. And if you are looking for a good image editing app for Windows Phone 10, which is about to release in coming month, here you go. The following list contains best photo editing apps for Windows Phone 10.
Important Note: Although, those developers have not announced whether their apps are Windows Phone 10 compatible or not, yet you can use them on WP 10 since they are currently working smoothly on WP 10 Technical Preview.
This is one of the most pre-eminent image editing apps for Windows Phone 10. Fotor is available for different platforms including Windows Phone, Web etc. Just like the web version, Fotor for Windows Phone has multitudinous features, effects and options. As a free photo editing tool for Windows Phone, Fotor provides all kinds of things under one roof. In the latest version of Fotor (v2.0), you will get some additional features such as photo collage, template selection, template ratio, resize image with two fingers etc. The overall performance is smooth and UI looks neat and clean.
Photo Editor by Aviary is perfect if you are going to try Windows Phone and image editing for the first time. It has inherent options, countless effects and more. You can make free hard drawing, crop image, add effects, use stickers, enhance according to your wish, write text and many more. Each of those options has more other sub-options those make Photo Editor by Aviary popular and operative. As per the Windows Phone website, this tool is available for Windows Phone. But, it works smoothly on Windows Phone 8.1 as well as Windows Phone 10 Preview. As it contains tons of features, the UI is not so clean. However, all the features are well categorized.
If you are experienced with basic options of any image editing tool, try Photo Effects 360, which has some advanced editing formulas. Alike Aviary photo editor, Photo Effects 360 comes with so many options to do the following things,
Stickers
Change sharpness, brightness, saturation, contrast
One tap enhancement
Crop and resize image
Add HD effects and frames
Color balance
Different font support for adding text
Photo collage
Share photo directly to any social networking websites
Camera support to capture and edit photo instantly
Although, professional touch can be given using this tool, yet the workflow is comprehensive.
Fhotoroom (Free, in-app purchase)
Fhotoroom comes with loads of free features. However, it also has a pro version, which has the following options,
HDR
TinyPlanets
Lens Correction
Resize
Etc.
Apart from these options features, you will get some other significant things in the free version of Fhotoroom. Considering all the features, this is confirmed that you can add various professional photo effects on any photo using this tool. This is possible to edit up to 22MP images. Except this, you will get some awesome looking templates, frames, color palette, light leaks etc. Not only have these, but also Fhotoroom comes with inbuilt camera so that you can edit any photo right after capturing it. Just like above-mentioned apps, you can share any edited image on any social networking website from inside the app.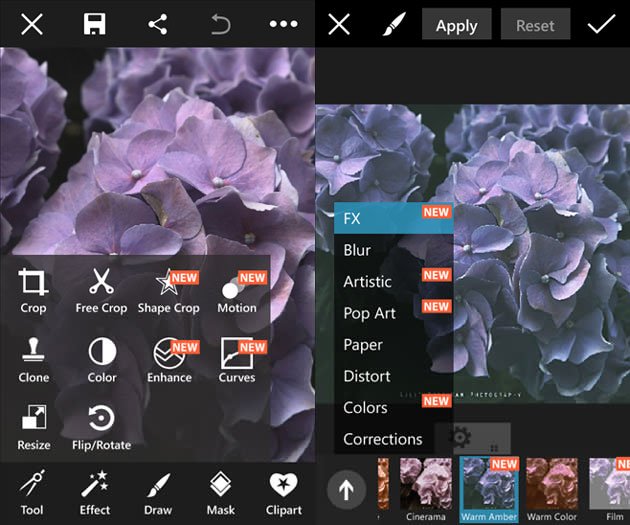 Even after being available for Windows Phone 8.1, PicsArt is also compatible to run on Windows Phone 10 technical preview. PicsArt comes with some extremely impressive photo effects, options to play with image and so on. The latest version of PicsArt comes with more features, UI enhancements, performance improvement etc. However, the user interface is quite good. You can add various effects, create photo collage, make free hand drawing and more. It contains more than twenty image effects, what can be fit with any image.
All the above mentioned apps can help you to add various effects including vintage, sketch, blue etc. Nevertheless, PicSketch has only one feature – that is sketch. You can turn your regular image into a professional sketch so that it looks more beautiful. PicSketch comes with the following options,
Color sketch
Gray sketch
Adjust brightness, contrast, outlines, intensity etc.
More than 30 paper textures
This little amount of features can assist you to turn your worst photo into an amazing sketch. This is possible to share your edited photo on various social networking websites, image sharing platform etc. It has Facebook, Twitter, Flickr, Photobucket, Tumblr support.
Final Word
As Windows Phone 10 has not released yet, the list seems small. All the aforementioned tools are tested on Windows Phone 10 Preview. This is expected to get more image editing tools for Windows Phone 10. But, as of now, these six image editing apps for Windows Phone 10 are the best.