What is New in Windows 10?
Surprised? You should be surprised because Microsoft has just announced Windows 10 and skip over Windows 9 at their event on September 30. Windows 10 is going to be the ultimate destination for kids to IT Pros. According to Microsoft, Windows 10 is for gaming addicts, CEO's , engineers, journalists and for everybody around the world.
The field to grow up a platform is changed but still developers has less time to devote to develop yet another version of operating system for personal computer. Everybody is busy with his or her daily schedule and everyone must have a device to operate himself/herself. Tech gadgets are managing today's people.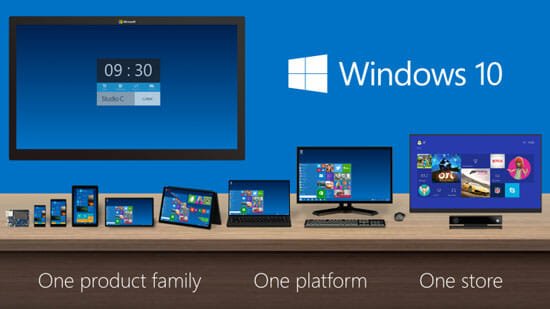 According to Microsoft and almost all the Windows lovers, this is the perfect time to launch yet another version of Windows that will be an innovative move. Microsoft has done the same what they should do in Windows 8 or at least Windows 8.1. Windows 10 is such a ground-breaking development that should be arrived in the place of Windows 8.
As per Microsoft's announcement, there will be only one store for one platform from one product family. As of now, Microsoft has not launched the tech preview version of Windows 10. However, it seems, today they will launch the tech preview at here. Before getting a brand new operating system for your personal computer, here is some most trending features list.
New features of Windows 10
Start Menu
The long awaited Start Menu is back again in Windows 10. Microsoft launched Windows 8 without any Start Menu. Hence, most of the Windows lovers were disappointed. After Windows 8, Microsoft launched Windows 8.1 but a Start Menu like button in the same place. That was even more frustrating. However, Windows 10 is coming soon with a dedicated Start Menu that will let you do even more that previous. By making use of this start menu, you can search for any app, document etc. On the other hand, Start Menu will show you live tile. In a single line, Windows 10's Start Menu is going to be a compact version of Windows 8 and Windows 8.1's Metro Screen or Start Screen.
Metro Apps in Windows
Numerous developers developed some third party software to resize the screen of Metro based applications. Those tools are going to be useless in Windows 10 since Windows 10 has the option to resize the metro based running applications. In Windows 10, you would be able to resize the window and run it as per your need.
Snap Enhancement
Previously, all Windows versions allowed users to snap only two windows on the screen. However, the brand new Windows 10 will allow users to have four apps snapped on a single screen. That means, you can divide your screen in four parts and each part will be able to contain an app window.
Task-View Button
Microsoft has developed this platform for different types of devices. Hence, they have added a brand new Task-View button in the taskbar to check what is going on currently. You will get an additional button in taskbar. By making use of this button, you can check running apps and switch from one app to any other. This is something like Android's recent app list. On the other hand, it will eliminate Alt + Tab buttons as well.
Virtual Desktop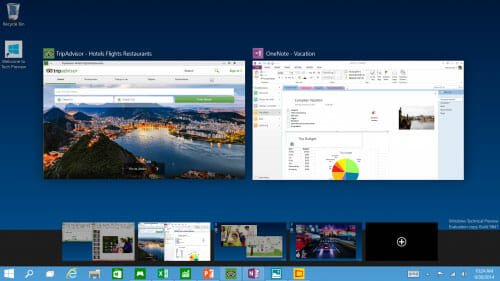 This is going to be the most exciting feature of Windows 10. Alike Ubuntu's workplace, now you can manage your opened apps in different virtual desktop. A single click will help you to get another clean desktop and you can open as many desktops as you want.
Final Word
Now, you just have to wait for some time to get the experience of Windows 10. Do not forget to share your experience with Windows 10 technical preview. Stay tuned – we will provide more information about Windows 10.