Comics Are Beautiful and Sociable with Graphic.ly
It is common knowledge that many people who are computer fanatics also have a special place in their heart for the world of other 'geeky' things. These often include science fiction movies like Star Wars, cult classic television shows like Star Trek, and the world of comic books. Comic books, however, are beginning to catch up with the 21st century turn towards a digital distribution model.
We have earlier discussed how to generate comic strips online and how to convert pictures into comic strips, so you might want to take a look at those two articles.
Many of the major publishers are releasing virtual versions of their graphic novels over the internet, and one company is working to bring them all together in one place.
Graphic.ly, one of the companies behind the digital revolution in comics, is quite possibly the very best application I have found to purchase and read comics via the internet. With their beautiful interface, well social integration and multiple ways of accessing content, the developers have created a tool that is changing the way we all view the distribution of graphic novels or online comics.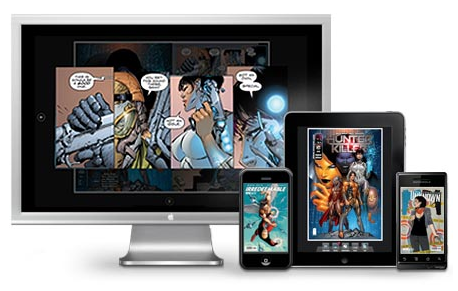 Graphic.ly has multiple methods for viewing available comics, but for the purposes of this review I will be discussing the Windows application powered by Adobe AIR. I also use and love the Android application as well as the iPad App for reading or buying comics. There is also an iPhone App available as well as a web app to download web comics from different online publishers.
Comics Made Beautiful: User Interface of Graphic.ly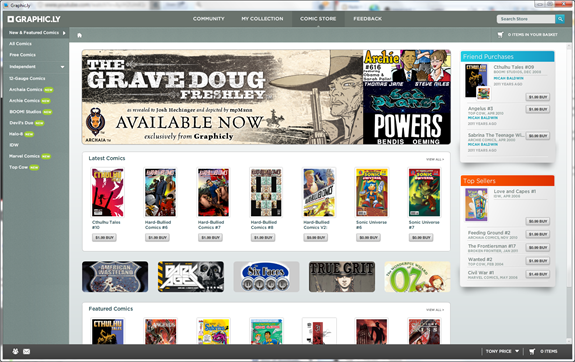 Graphic.ly has a wonderfully well designed user interface. The store where comics can be bought, is extremely well organized, with the ability to view based on publisher as well as price and publication day. My only real complaint about the store is the lack of DC comics, but that is not a fault with the application.
The experience of reading a comic using Graphic.ly is something really wonderful.  The app offers a few different views to read your graphic novel, including Graphical Flow, Single Page, and Spread. My favorite is Graphical Flow because it gives a panel-by-panel zoomed view of the comic you are reading, giving the best look at the details in the artwork.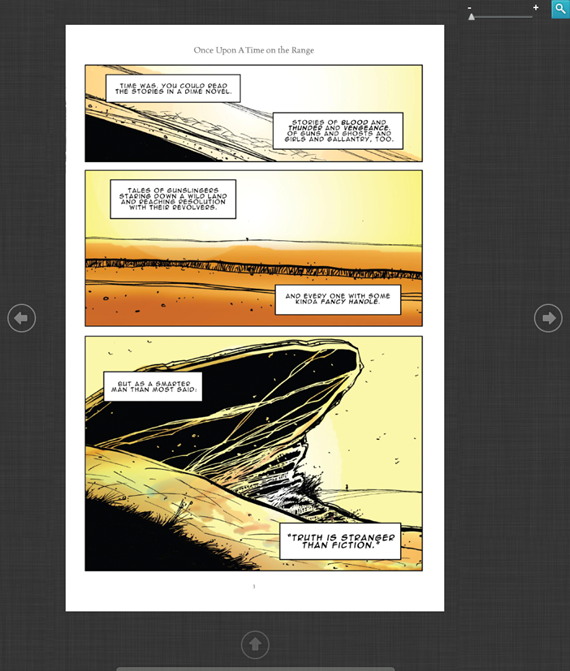 This is what a comic looks like when displayed in Single Page view.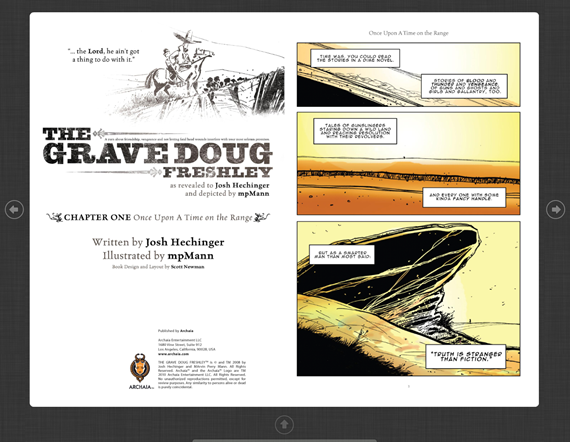 This is what a comic looks like when viewed in Spread view.
Comics Made Social: Social Features of Graphic.ly
While looking pretty is important for a desktop comic book reader, where Graphic.ly really sets itself apart is in its social features. It is fully integrated with both Twitter and Facebook and allows you to invite friends from both services, and even connect with people you know who already use Graphic.ly. It also gives you the ability to post status updates or tweet about comics you are reading.
Beyond integration with standard social media, Graphic.ly has developed a community involvement within its comic reading experience. Users can post comments on exact details of panels, giving insight into pop culture references, or pointing out continuity issues. This commenting feature makes reading comics a much more social affair. Adding your own comment is as simple as right clicking a panel and typing it in.
Comics Revolutionized: Final Thoughts on Graphic.ly
As you can see, Graphic.ly really changes the way you can read comics. My favorite features are the rich color images and text and the social features of the service. I look forward to using it for the foreseeable future.
What are your thoughts on Graphic.ly? Do you use it to read your comics? Is there a feature that you want to see highlighted? Please post any questions or comments in the section below.