How to Remove Your Facebook Profile From Google Search And Facebook Search
The privacy settings of your Facebook profile can either be public or private.
Public Facebook profiles appear in Facebook search results when someone searches for your name in Facebook. In addition to this, public Facebook profiles may also appear on Google search results and other directory search results e.g Pipl search. When real world friends look for you using a search engine, this setting makes it possible for them to see a preview of your Facebook profile (containing only info that's available to everyone).
If you are concerned about the privacy of your Facebook profile and don't want your Facebook profile to be shown in search engines like Google, Yahoo, MSN, AOL or Bing, you should change your Facebook profile's privacy settings from Public to Private. This will ensure that your Facebook profile can not be found from Google search and it's completely removed from search engines and other user search directories.
There are different settings to customize whether your Facebook profiles appears in Facebook search or in Google search. Both the procedures are explained below in details:
How to Remove Your Facebook profile From Google Search Results
Following are the steps involved to remove your Facebook profile from Google search, records or lookup:
1. Log in to your Facebook account and click the "Accounts" dropdown menu located at the right top of the browser. Then click "Privacy settings"
2. This will open the "Privacy settings" page where you can choose whether you want to hide your Facebook profile in search engines or not.
3. In the next page, find "Public Search" and hit "Edit Settings"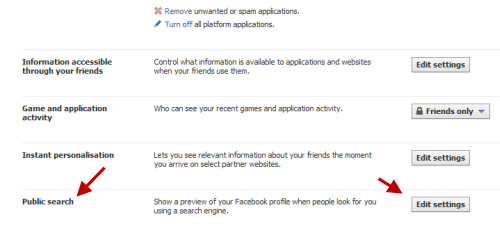 4. In the next page, you can choose whether you want your Facebook profile to be crawled and found by search engines. To remove your profile from Google search results, simply uncheck the checkbox " Enable public search"
That's it, you have just removed your Facebook profile from Google's records.
Also read these most recommended tips on customizing your Facebook account's privacy settings:
How to Remove Your Profile From Facebook Search
1. Go back to the "Privacy settings" page and click "View Settings" under "Connecting on Facebook" section.
2. You will see a section named "Search for you on Facebook". Under that section, hit the "Edit Settings" button and choose "Friends only".
All done.
Now only your friends will be able to find your Facebook profile when then type your name in the Facebook search box. This is an easy way to hide yourself from unknown strangers and prevent other Facebook users from sending you mass friend requests.
Now that the search engines are blocked to crawl your Facebook profile, no one else would be able to find you from a search engine and neither from Facebook.