Ring – A Next Generation Doorbell
Doorbell is probably the must have equipment for everyone. It doesn't require any introduction since everybody knows about this particular thing. Nonetheless, today, I am going to introduce such a brilliant doorbell that is known as Ring.
What is Ring?
In simple words, Ring is a doorbell. That's it? Obviously NO.
Ring has some amazing features that will blow your mind and attract you to buy one for your home. You know that everyone can ring the doorbell to let you know that he/she is waiting for you in front of your gate. But, what if you are not in your home? A regular doorbell will not notify that to your guest who is trying to knock you.
That is where Ring steps in. Ring has a built-in high-definition camera that will help you to talk to the person, who has come to meet you. You can talk to your guest using your mobile camera. It comes with built-in microphone and speaker so that you can speak to your friend or anybody even after staying anywhere.
Technical Specification of Ring
You must have Android or iOS mobile to utilize Ring. Also, you should have either Android 4.0+ or iOS 7.0+ to install the Ring app in your mobile. On the other hand, you need a WiFi router so that Ring can get your data connection concurrently.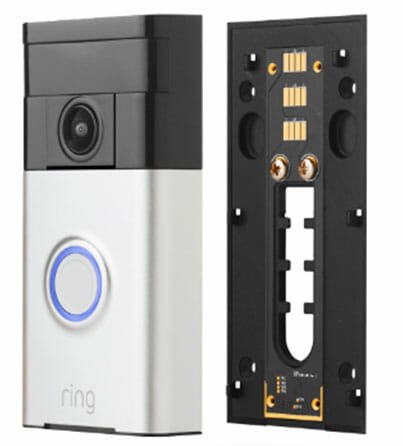 Ring looks awesome. The dimension of this doorbell is 4.98 inch x 2.43 inch x 0.87 inch. It means you can set it in the place of your old doorbell without any problem. Also, this is very lightweight. It is only 257gm.
It has a 5200 mAh battery. According to the Ring authority, you do not have to recharge the battery even for once in one year. But, I don't think a 5,200 mAh battery can provide such an unbelievable battery backup.
Anyway, you can get an HD camera with a resolution of 1280 x 720. This contains night vision camera.
Ring Installation
This is very simple to install Ring in the place of existing doorbell. Check out this video to learn more about the installation.
Pricing and Color variation
Although, Ring had been available for free till January 1, 2015, but now it costs only $199. This is a one-time pay.
Ring is available in four different color variations. You can purchase it in following color combinations;
Black and Satin nickel
Black and Golden
Black and Wooden
Black and Bronze
The interesting thing is all of them looks really great.
How does Ring work?
The workflow of Ring is pretty simple. It has a sensor hat detect movements around it. If any movement is happening around it, the night vision camera will be started and you will be notified on your mobile. After that, you can talk to the person, who has come.
Suppose, you are busy with your work and cannot talk to anybody. At such moment, you can let your visitor know that he/she can leave his/her message in Ring. Ring will record all the video and upload it to its own cloud server and you can check the video later.
If you consider all the features, the price would be looking very low. However, Ring is a great doorbell that comes with all these above-mentioned features. Hope you would like them.