Samsung Galaxy On5 VS On7: Detailed Comparison
Samsung, the most trustable phone manufacturer in India, is going to launch two more new entry-level smartphones those are mainly designed for 4G LTE and mobile photographers. Although, the camera seems average yet it supports 4G LTE, which will help these two new devices to stand out in this crowd.
Samsung Galaxy On5 and On7 are already announced by Samsung in October and this is expected to get them in the next month. However, if you are thinking to buy any of those mobiles, here is a brief guide for you that will assist you to buy the better one for you.
Samsung Galaxy On5 VS Galaxy On7
Both of the mobiles are not highly compromised – in terms of features. Also, they do not have very low quality features either. As they are entry-level smartphone, you cannot find expensive hardware. But, still they can be successful as they are consisted with some awesome features.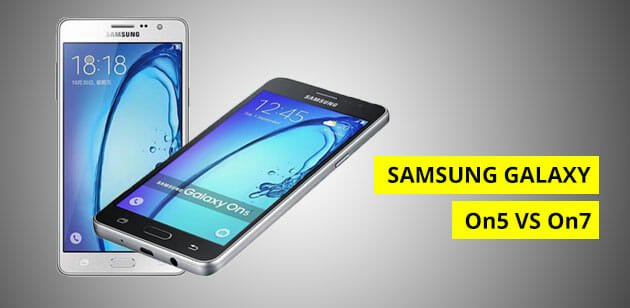 Network
When other companies are launching high tech smartphones with 4G support, Samsung is going to launch these two entry-level smartphones with the same. That simply means you will get 4G alongside 2G and 3G. The network frequency is almost same. Therefore, there is a chance to get the same speed on both of them.
Body
Samsung Galaxy On5 is quite smaller than On7. But, the difference is not too big. The dimension of Galaxy On5 is 5.60 x 2.84 x 0.33 inch, when the dimension of Galaxy On7 is 5.98 x 3.05 x 0.32 in. This is just 0.38 inch bigger than On5, which is reasonable. However, you will not get any problem to grip them in one hand. This is why these Samsung mobiles are going to excel. As the dimension has a different, you will get some difference in weight as well. Obviously, Galaxy On5 is quite lighter than Galaxy On7. The weight of On5 is 149gm and the weight of On7 is 172gm.
Display
Now, here Samsung has made some compromises as the screen is quite low in terms of quality. In On5, you will get a 5 inch TFT capacitive touchscreen with 16M color density. On the other hand, On7 comes with 5.5 inch TFT capacitive touchscreen with 16M color density. Although, the resolution of both mobiles is same yet On5 has 288 ppi pixel density and On7 has 267 ppi pixel density. There is another similarity in these mobile. Both of them are multi-touch supported.
Chipset, CPU & GPU
Although, the price has a big difference, yet, the chipset is same of these two upcoming mobiles. You will get Exynos 3475 in Samsung Galaxy On5 as well as Galaxy On7. However, the CPU comes with a difference. You will get Quad-core 1.3 GHz Cortex-A7 in Galaxy On5 and Quad-core 1.2 GHz Cortex-A7 in Galaxy On7. However, these two mobiles have Mali T720 GPU. Considering all these things, this is confirmed that they will not go slow but this is also true that you will not get a high quality experience with them. However, they are capable of running 4-5 third party apps at a time.
RAM & Memory
Nowadays, most of the mobiles come with 2GB of RAM. But, you will get 1.5GB RAM in On5 and On7. The whole architecture is pretty good actually. However, users are going to get 8GB of internal storage that can be extended up to 128GB using microSD card.
Camera
As mentioned before, these two are mainly focused on mobile photographers. Mainly the On7 is highly designed for that. You will get a 13MP rear camera with autofocus, LED flash etc. However, in On5, you will get an 8MP rear camera with the same features i.e. autofocus, LED flash etc. As usual, you can find a difference in resolution as well. The captured images resolution of On5 camera is 3264 x 2448 pixels and On7 camera is 4128 x 3096 pixels. Apart from that, you will get geo-tagging, touch-to-focus, face detection and many more. Both of them come with a 5MP front facing camera as well.
Battery
Although, this is not confirmed yet it seems they have removable battery. Anyway, you are going to get Li-Ion 2600 mAh battery in Galaxy On5 and Li-Ion 3000 mAh battery in Samsung Galaxy On7. According to the sources, both of them are capable of providing 11 hours of talk time on 3G connectivity.
There is no other difference in Galaxy On5 and On7. Rest of the features are same in both of them. That means, you will get WiFi hotspot, A-GPS, microUSB v2.0, accelerometer, proximity sensor and many more those are common features in these present days.
In terms of price and configuration, you will find a quite huge difference. The Samsung Galaxy On5 comes at 140 euro and On7 comes at 180 euro.
Before purchasing anyone of them, do think about the features. Hope Samsung Galaxy On7 will knock your attention.