Use Adobe SendNow to Share Large Files Online
Email is still one of the most popular methods to share files with online friends and contacts. But the problem with Email is the file size limit – most email providers won't allow you to upload files that have more than 25 MB file size.
An alternative way for sharing large files would be to use online file sharing services like Dropbox, Windows live skydrive but novice user's either don't use them or they are too lazy installing the respective desktop clients, uploading the files and then sharing them with other people. Again there are social file sharing apps like Divshare for Facebook, but these applications are too basic and don't offer much features.
Adobe SendNow is a new file sharing service which allows users to send and receive large files from anyone. The advantage of Adobe Sendnow is that you do not need a desktop client to upload the files and can simply use your browser to upload or download the files shared by others.
To get started, sign up for a free Adobe account and go to the Sendnow dashboard. Select the files you want to upload, enter an email address, add a title and off you go.
The chosen file will be uploaded to Adobe's servers and a link will be forwarded to the recipient (multiple people are supported). The receiver can download the file without requiring an Adobe account.
The free version of Adobe Sendnow has some limitations. For example – you can't upload files more than 100 MB in size and neither you an attach multiple files and share them in one shot. The shared file will be available only for 7 days, so the service can not be used as a download repository for frequently needed files by your clients, colleagues or other friends.
The maximum storage available is again very less (500 MB) and neither you can share MP3, EXE, videos. However, the service works fine with office documents, PDF's, images and small zipped archives.
If you want more features, you can upgrade to a premium account by paying $9.99 a month. The premium edition allows a hefty 20 GB of storage, with 2GB file size limit. Also, there aren't any file type restrictions and you can even track the downloads and get email notification when the receiver downloads your shared file.
Following is a brief comparison of Adobe Sendnow's free and premium plans: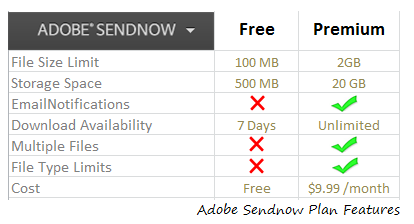 There are some other tools that can be helpful to send large files online. Some of the best tools are mentioned below.
Best Tools To Send Large Files Online
1] Transfer Now
Transfer Now is one of the best websites to send large files online. No matter whether you have a ZIP file, image, video, audio, text, or anything else, you can certainly send that to your friend without any problem. If you want to try this tool, you have a limitation of 4 GB per transfer. However, if you spend some money to purchase a premium account, you will get option to send 20 GB file per transfer. It allows you to password protect your transfer for secure environment. On the other hand, you can send a message to the recipient so that he/she can understand what the file is all about.
2] WeTransfer
You can use WeTransfer tool, when you need a simple option to send large files online. If you do not like Adobe SendNow or the other tool, you can opt for WeTransfer. This is not completely free but you can use most of the part of this website without spending any money. It allows you to send a demo file so that you can understand how it works. Later on, you can purchase WeTransfer Plus for $12/month to get additional benefits such as 20 GB transfer, up to 100 GB storage, password protection, and many more. The extra option of this tool is you can send either email or link to your friend.
3] Filemail
Filemail is yet another tool to send large files online for free. Although, it has a free edition, you should try the premium account at least once. You need to pay $15/month to try the premium features. Users can password protect all the file transfers, extend the file size limit, track all the file transfers, etc. The best thing is you can download the app for your computer so that you get things easily. Not only that but also you can download the app for android, iPad, and iPhone.
That's all! Adobe SendNow is a pretty good tool. However, if you do not like this one, you should try others as mentioned above.