Best System Monitor Software for Windows 10/8/7
Are you suspicious about your bandwidth usage? Do you want to know which app is using your computer resource? Do you want to know about which app you are consuming most of your time? Here are some System Monitor Softwares that will let you monitor everything. You can monitor everything from bandwidth consumption to resource tracker. Check these amazing apps below:
Best System Monitor Software for Windows 10/8/7
Some of these tools are available for free, but most of them are paid as quality comes with money. Therefore, if you really need a system monitoring software for your Windows computer, make sure you have some budget.
1. Qustodio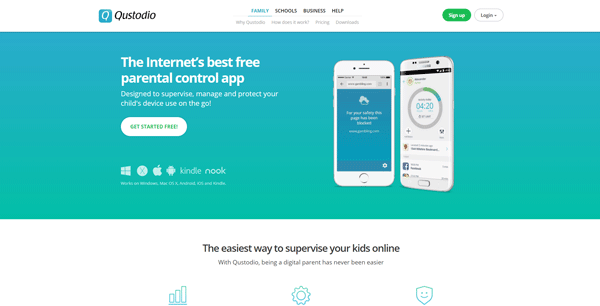 Qustodio is probably the best system monitoring software available for Windows XP and later version. You can easily download it on Windows 10 and keep using it without any problem. However, the only requirement is you must have an administrator account on your Windows computer. Otherwise, you cannot set it up properly, and as a result, it won't operate correctly. Before checking out the features, you should know that Qustodio is a paid application. You can calculate how many devices you want to control and opt for a plan that suits you. Its pricing starts from %54.95/year, and it comes with up to 5 device support. It doesn't matter which plan you select; you will get these following features-
Basic protection
Advanced Facebook monitoring
Time limits by device
Games and apps blocking
Location tracking
Panic button
And more others. The user interface of Qustodio is pretty good. During the setup, you must have an account. Otherwise, this is not possible to open the app completely and use it for your benefit. Download
2. Time Doctor
If you want to get a project management app as well as monitoring software, Time Doctor seems to be good. It allows you to integrate various third-party services so that you can enrich the user experience. To be more specific, you will get time tracking, website & app monitoring functionality, screenshot monitoring, and more others. Although it doesn't come with a lot of options like the first app does but you will get all the features that can be used easily. Like Qustodio, Time Doctor is a paid app as well. Being said that, you can use the service for $9.99/user/month. However, if you want to try it first, you can download the trial version. Download
3. FlexiSPY
If you need a complete one-stop solution, you should try the FlexiSPY app, which is available for the Windows computer. It comes with a lot of features, and all of them are equally handy. From monitoring screenshots to a web browser, social accounts, videos, keystrokes, to social chats, file transfers, you can keep a log of everything with the help of this application. However, you need to spend quite some time to understand all the features this tool offers. As mentioned earlier that a complete tool should be able to monitor everything. Having said that, you can monitor your bandwidth usage as well as using this tool. Talking about the user interface, you can find an old-school UI. However, this tool is quite expensive. You need to spend $68/month. However, if you want to purchase it for a longer time, you can spend $99 for three months or $149 for 12 months. Download
4. Net Nanny
Net Nanny is another amazing software for Windows that you can download for your Windows computer. Like any other standard system monitoring app for Windows, you can find all the essential features and tools in this application. Being said that, you can get internet filter, block adult websites, get parental control, find time management related tools, remote management option, personal accountability, alerts and reporting, and profanity masking and more others. In other words, you can give your kid a regular user account, and you can block a certain app or games in your system. Apart from that, this is also possible to block different websites if you do not want to allow your kids to open them. As usual, you need to purchase this app, and the pricing starts from $59.99, which is available for 5 computers or mobiles. You can also opt for 10 devices package, which costs around $89.99. Download
5. SpyAgent
SpyAgent is another awesome tool for your Windows computer to monitor every aspect. Like the first one, it comes with a lot of features that will help you manage your tasks in the monitoring field. Some basic options like keystrokes, application usage, website usage & statistics, screenshots to webcam images, microphone audio recording – everything is available in this app. Talking about specific features, you will get the following options in this tool-
Social activity, e-mail, chat log
Computer usage sessions
Events timeline
Internet activity
File usage and transfer log
Mouse clicks
Block unnecessary sites, apps, games, chats
Block website by category
Lockdown scheduling
Instant behavior alerts
Daily activity report
Top 10 visited websites
Top 10 online searches
Top 10 used files
Top 10 email senders
Invisible stealth mode
Log file encryption
Disable spyware detectors
Invisible log files
And more others. Regarding price, you need to spend $69.95 for one computer. However, if you want to purchase it for three computers, you need to spend $89.95. Download
That's it! These are some of the best system monitoring tools for Windows 10/8/7. Hope they will help you to fulfill your demand.