Top 5 Apps for Apple Watch
Apple Watch is a brilliant invention of Apple and it is quite popular among Apple lovers as it solves real life problems with an ease. Although, Apple Watch is an awesome gadget by itself but it doesn't support all the apps what iOS devices do. That is where this article comes in. if you have bought new Apple Watch or you are a new Apple Watch user, you should check out some useful Apple Watch apps here. Previously, we mentioned best travel apps for Apple Watch but today here are top 5 Apple Watch apps those can be helpful for you in any situation.
1Password
This is probably the best password manager app for iOS and other platforms and the best thing is you can download 1Password for Apple Watch. By downloading 1Password for Apple Watch, you can do all the things what are generally available for other platforms. For instance, you can manage your passwords, add new entry and more other things. You can keep your confidential things secretly with the help of 1Password.
Download: 1Password (Free)
Google Maps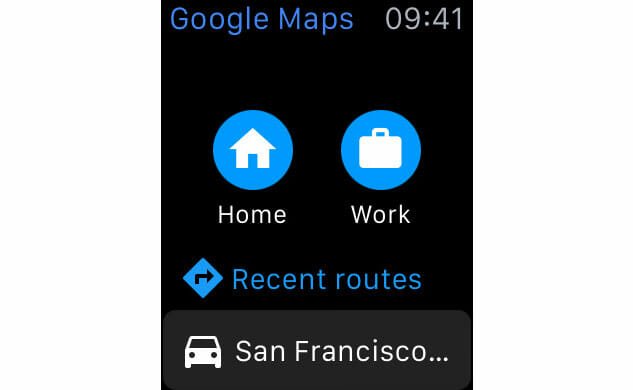 Apart from having the in-built map app for iOS, this is far better to use Google Maps on your Apple Watch. Apple Watch is a small device, which comes with a small display but Google Maps gets fitted into this display very well. Therefore, you should not have any problem to navigate through different places on your Apple Watch in Google Maps. Google Maps is available for free and you can download this app right from app store.
Download: Google Maps (Free)
PCalc
PCalc is a calculator app for Apple Watch. Not all the calculator apps are compatible with Apple Watch, but PCalc is very much compatible with Apple Watch. The best part is you can download this app for WatchOS 2. The slick design of this app looks great. You can get simple options as well as advanced options. The best part is you can use brackets in Apple Watch version of this app. However, this app is not free. Instead you have to spend $9.99 for this app.
Download: PCalc (Paid – $9.99)
ProCamera
ProCamera is yet another awesome camera app available for Apple Watch. iOS has some good camera apps and ProCamera is great for watchOS. You can get some awesome filters, HDR support, effects and more with the help of ProCamera. On the other hand, this is a paid app that is available for Apple Watch. The user interface looks good and you can have some simple options to do all the tasks. You can also record video with ProCamera.
Download: ProCamera (Paid – $4.99)
Slack
If you have a team and want to communicate with each member all the time, you can simply install Slack on your watchOS. Slack is a very good communication app that is available for different platforms and web. You can create groups, chatrooms, send photo, receive photo and do more other things with the help of Slack. The user interface of Slack is really awesome and the slick design is pretty good for the user. You can get the reply button to send reply quickly.
Download: Slack (Free)
There are more other apps for Apple Watch, but these are some of them best apps for Apple Watch. You can always download and install different apps to fulfil your demands.