Top 7 Network Monitoring software for Windows 10 / 8 / 7
Network monitoring is pretty interesting as well as useful. When you are getting good internet speed, when someone else is using your internet connection, when others are getting good internet connection and you are not, how many people are connected to a network – every question have one answer. You need to use network monitoring software  for Windows 10 / 8 / 7 to monitor your network easily.
Here are some free and paid software those are take care of all those things related to network monitoring.
Free network monitoring software for Windows
Although, there are many similar software, yet, here are only few of them those can be really helpful you at this time.
Advanced IP Scanner
This is probably the best and easiest to use network monitoring tool for Windows. You can use Advanced IP Scanner on Windows 7 / 8 / 8.1 /10. This is very easy to use and it doesn't take much time to show you the result what you are currently looking for. The most interesting thing is there is no need to install the software. You can use Advanced IP Scanner as a portable software. You can check MAC address of any device that is connected to your network. This is also possible to use Wake-On-LAN features through Advanced IP Scanner. All the possible network information can be grabbed by making use of this tool. It comes with a simple user interface. You need to nee to set the IP range according to your own IP address. As a result, you will the username, IP address, MAC address of all the PCs those are now connected to your network. You can also ping them.
Microsoft Network Monitor
Currently, V3.4 of Microsoft Network Monitor is available. This is another simple network traffic monitor software design for Windows 7 and all the latest version. This network monitoring tool for Windows requires minimum system requirements and as usual, it is available for free. Just download, install and run. That's it! It has a neat & clean user interface that is consisted with different filters, all connected PC names, IP addresses, ping results and many more.
WireShark
https://www.youtube.com/watch?v=U0QABcTD-xc
This is probably the most powerful networking monitoring software for Windows. WireShark is available for Windows XP and all the recently running versions of Windows. Although, it has a complicated interface but all the features are very useful. You can make use of each of them to get various results. This is a fast network traffic capturing tool for Windows. This tool is being used by various network administrators as it shows different kinds of results under one roof. This is perfect for any big network admin. Another interesting thing is you can be anonymous while searching for something using WireShark. In other words, this is also possible to check and find out any spy from your network. The third exciting thing is this is possible to know the exact problem in your network using WireShark. This is where it excels and most of the other network monitoring software for Windows fail.
OpenNMS
This is another popular network monitoring tool for Windows. This is popular as it is free and open source. Another reason is its features. It comes with very essential features those are rarely available in other software. It is an enterprise level network monitoring tool that can be used to manage event, notifications etc. On the other hand, this is also possible to the advanced filters of OneNMS to discover all the connected devices to your network. It can detect up to 50k devices at one, which is a massive number. Another good thing is you can monitor your services 24/7 using this tool. Alike other network monitoring software, OneNMS can also collect data of various internet protocol.
Pandora FMS
This is a three-in-one tool, which can monitor network, WMI, performance, track GIS, manage inventory and do more others. People use this tool since this is free and available as open source. On the other hand, the user interface is pretty simple and can be understood by any noob within moments. As it shows all types of data on the same window, you can find it quite interesting. This is quite impossible for any tool to provide all that information at one place. (Download)
Total Network Monitor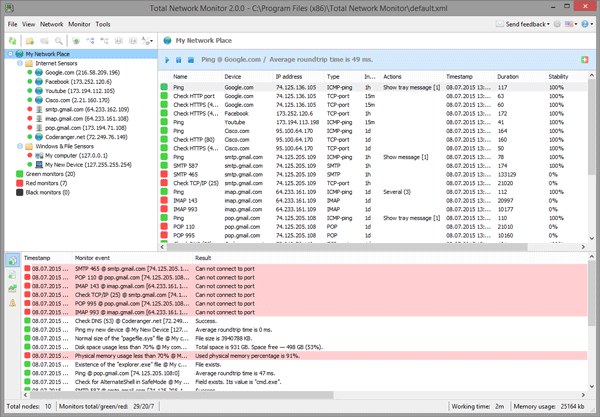 As the name says, it can monitor each and everything little thing of your local network. Alike Advanced IP Scanner, you can use Total Network Monitor to check whether someone else is using your IP or anything for that your network is down. That means, this is possible to find the exact problem with the help of Total Network Monitor. You can also check the events of your network so that you can get the time when the problem has started from. Total network Monitor is actually not free. You can download it for 60 days. After that, you will have to buy this too.
Nagois Network Analyzer
Nagois Network Analyzer is yet another free and open source network monitoring tool. You can download and start using it experience. You can find some useful features like event management, problem finder in network etc. It comes with some basic options. You should also watch the tutorial video so that you can use it faster.
So, these are the top network monitoring software for Windows. What do you think about these? Do you use any network monitoring tool?