Best Android Apps to Watch Movies and TV Shows
Although thousands of movies get released every year in the theater, people have shown a huge interest in mobile apps those stream movies and TV shows. Although it has been going since past couple of years, this thing has increased a lot in the past one or year years. If you do not want to leave your couch to watch a TV show or movie, you can check out these Android apps to watch films and TV shows. Although some of the apps require a subscription, there are few apps those will let you watch old shows for free.
Best Android Apps to Watch Movies and TV Shows
1] Netflix
Netflix is probably the best and largest movie and TV show streaming app for Android. You can watch their shows and movies for a year, and you will still find something new. That is how big the database of Netflix is. From old English movies or regional Hindi movies to various foreign TV shows, you can find everything on Netflix. The app is super easy to use since it doesn't come with any complicated option. On the other hand, you can manage your account without any problem. The pricing of this app is easy to understand, and you can opt for any plan whenever you want. The BASIC plan costs around $7.99/month, the STANDARD plan costs around $10.99/month and the PREMIUM plan costs around $13.99/month. The primary difference between this plan is you can get HD option in STANDARD plan and Ultra HD option in PREMIUM plan. Also, you can stream only on one device having the BASIC plan, 2 devices with the STANDARD plan and up to 4 devices with the PREMIUM plan. Talking about finding a show or movie, you can search for that or go through the categories to find a show.
2] Amazon Prime Video
Amazon Prime Video is yet another awesome movie and TV show streaming app you can download on your Android mobile. No matter whether you want to watch some TV shows or a movie, you can find that on this app. Although the collection of Prime Video is not bigger than Netflix, this is not small either. The best thing is the app has some useful features you can find while watching a show. For example, you can cut the show by 10 seconds, which is recently introduced in Netflix. But Prime Video has that option from long ago, and that is the advantage of using this app. Regarding shows, you can find English shows/movies, Indian films and some foreign language films and TV shows in this app. To watch videos on Prime Video app, you must have the Amazon Prime subscription. This subscription costs around $8.99/month if you want to watch only Prime video. However, there is another plan costs around $12.99/month that will provide two-day shipping, unlimited music streaming, unlimited photo storage and so on.
3] Hotstar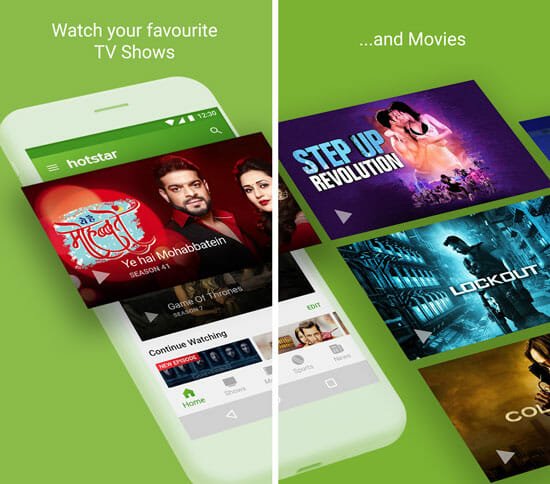 If you want to watch live TV channels as well as TV shows and movies, Hotstar is probably the best option you can opt for. Hotstar is an Indian app that offers mainly Indian TV shows and movies. You can find countless movies in Hindi, Bengali, Tamil, Telugu, and so on. Not only that but also you can find some good TV shows such as Prison Break, How I Met Your Mother, Game Of Thrones, Strike Back, West World and so on. There is no doubt that Hotstar is one of the best apps for Indian audience. However, there is a drawback of this app, and that is you cannot stream video while enabling VPN. If you use Indian VPN server, you might not find the problem. However, if you have enabled the US or any other server, you will encounter some issues while playing. Regarding the pricing of this app, you can purchase a monthly subscription for ₹199/month or ₹999/year.
4] Tubi TV
If you want to try something new and free, you can uninstall Netflix, Prime Video, Hotstar, etc. and install Tubi TV. Tubi TV will let you watch countless TV shows and movies at free of cost. Being said that, you do not have to spend a single penny on it. From Korean drama to English documentaries, you can find everything on Tubi TV. The best thing is you can watch everything in HD. It comes in some categories like Drama, Comedy, Action, Horror, Anime and so on. You can either search for a movie or use those categories to find something new. Regarding the compatibility of this app, you need to have Android 4.1 or later version.
5] YouTube
If you are using Android mobile, you might already have the YouTube app since almost all the manufacturers include this app in their customized Android platform. Undoubtedly, YouTube is the best video streaming app, where almost anyone can upload videos. Apart from five minutes or ten videos tutorial, entertainment or sports-related videos, you can find tons of movies as well as TV shows. There are lots of production houses those upload their TV shows and movies on YouTube so that more people can watch. Most of them are free, and some of them are paid. The best thing is you do not need to purchase any monthly or yearly subscription. You can simple choose the film that you want to watch and pay the price for that film. Following that, you can keep watching that show or film for a particular amount of time. The player is good, the user interface is neat and clean, collection is huge, and these are some of the advantages of using YouTube.
6] HBO NOW
HBO is one of the biggest American Cable TV networks and they have an Android app that you can use to watch live TV and shows streamed on HBO tv channel. You can watch shows like GoT, West World and so on with the help of this application. Apart from that, you can watch talk shows and more if you want to get started with HBO NOW App, you can start with the trial version. Following that, you can purchase a subscription for $14.99/month.