Best Music Sites To Download Songs (Free And Paid)
Who doesn't like to listen to some music? If you love to do that no matter what the situation is, you should be happy to see these music sites to download songs to your mobile, and computer. The music industry is a massive part of the world and producers spend countless money on the song, video, etc. That is why most of the sites are paid or subscription-based. In this article, we have managed to enlist some free and paid sites from where you can download some songs.
Some websites are for educational purposes only. You should include the downloaded song in your commercial work since you may infringe on someone's copyright.
Best Music Sites To Download Songs
1] YouTube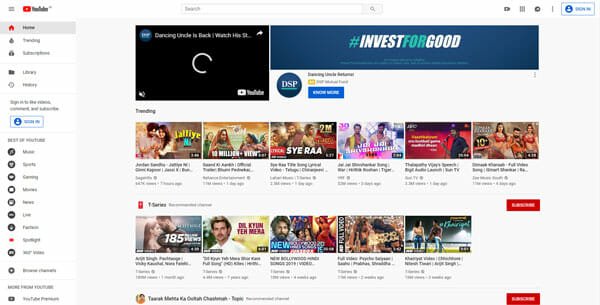 YouTube is the most prominent place where you can download songs for free. As mentioned, you cannot use those audio files in your project or so, but you can keep them on your mobile or computer. We have already shown how to download MP3 from YouTube video, and you can use that tutorial to download your favourite and latest music from this video broadcasting website. Many well-known personalities and music companies use YouTube to upload their latest music, and that's why you should find a newly released music video on this website that you can download to your computer or mobile. Visit website
2] SoundCloud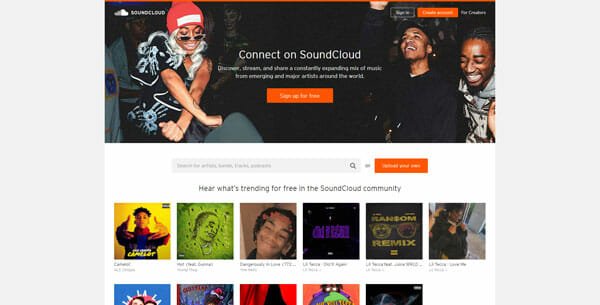 SoundCloud is a vast platform for music lovers and creators. You can download music from SoundCloud and use that in your work like YouTube videos, school projects, etc. However, this is recommended to get permission first from the respective owner or uploader. This is very easy to find music on this website since it comes with various categories. You can use artist name, song name, release year, etc. to find your desired music. This is a free website, but you can opt for a PRO account if you are a creator also. Visit website
3] Audiomack
Audiomack is something like SoundCloud, but it comes with a more cluttered user interface. However, the UI looks modern and well-managed. There are different ways to find music for your work. For example, you can search by genre (Hip Hop, Pop, Latin, etc.), artist, uploader, etc. People use this website to upload remix of an existing song, and that is why you can get some fine-tuned music on Audiomack. This website provides mobile apps for Android and iOS, but you need iOS 10.0 or later version and Android 4.1 or later version. Visit website
4] Jamendo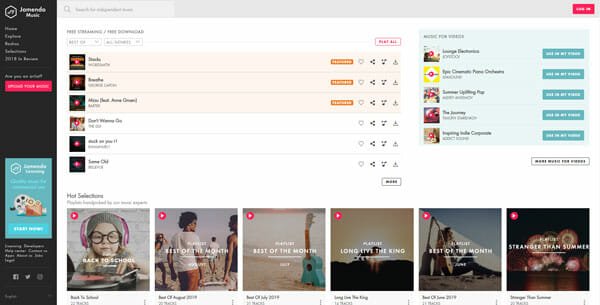 If you do not have time to check the license of each audio file before downloading, you should take a look at Jamendo. This website provides all Creative Commons licensed data so that users can download and use them according to their desire. In other words, if a person has created something and uploaded that on this website, you can use that file for your work like a school project, YouTube video, etc. However, this is suggested to give a small credit to the creator since he/she may have spent a lot of time to make that thing possible. Visit website
5] Internet Archive
This is a huge free marketplace from where you can download songs for free. This website comes with a lot of filters, categories, etc. to find the desired music as soon as possible. You can filter music by media type, release date, creator, language, etc. For your information, you can find various languages, including English, Spanish, Dutch, and many more. Although this website has a huge collection of free music, the quality is not that good. Also, you may have to spend some time to understand how the website works, how to navigate to various paths, how to download music, etc. These are some primary reasons why people often ignore this website. Visit website
6] Last.fm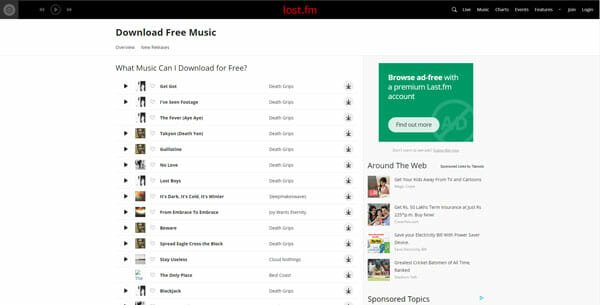 Although Last.fm is an excellent website in terms of usability and user interface, this is quite hard to find free music. However, if you are ready to spend some money, this is probably the best option for you. Downloading a song from this website is the easiest thing you can do as it comes with a one-click download option. The best thing is that you can listen to the music before downloading so that you can find something that you want. As most of the previews come with a YouTube player, you need to allow this website to show the popup. The second setback of this website is that you cannot find most categories to filter songs. Visit website
7] Bandcamp
Although the site looks cluttered, you can find some good music, and you can download them for free. Not all the tracks are available for free, and you need to pay some money to get them on your mobile or personal computer. The first problem with this website is that you cannot find a "free only" page if you are looking for only free songs. You can find either "buy track" or "download" option on the page so that you can get the song accordingly. The positive point about this website is that you do not have to create an account to download a file from this website. Visit website
8] Spinrilla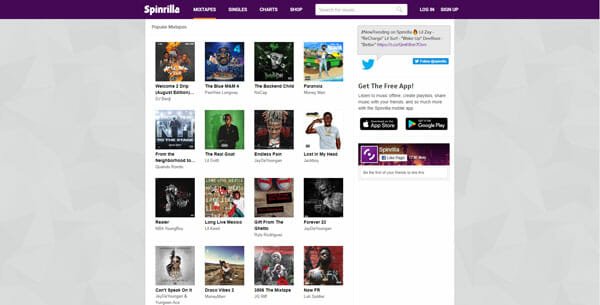 Apart from having a huge collection of music, you can find a modern user interface, filters, etc. This is very easy to find a song that you want as it comes with some categories. However, the website is mainly for mixtape users since the uploaders create and upload such music quite frequently. You can download the official app that is compatible with Android 4.1 or later version and iOS 10.0 or later version. Visit website
You can use iTunes, Prime Music, etc. to download music temporarily. However, these websites allow you to download the music and use them in your projects as well. I hope they will help you.