Learn to generate new post ideas when you don't have one
We write a lot & more importantly our readers read a lot. They are always looking for something fresh, something meaningful. Even big bloggers of our times find it hard sometimes to carry on writing. They also fall short of ideas to write about. But we can't stop writing, because there are millions waiting to read. So how to find good topics while we are stuck at a point. Let us find out how the big bosses of blogging generate post ideas.
1. Do Mind Mapping…
Many of us have heard of it but most of us haven't. So what is this ??
It can be simply defined to be brainstorming procedure to generate ideas in a diverging way i.e. all the end results focuses back to the source itself.
Its a very easy pen and paper planning to get tons of ideas from a single post. The end results of this technique can lead to follow-up posts or detailing posts of the selected post. Let me show you how to do it.
1. Get a pen & paper or something that you feel you can write down.
2. Write down 5 most popular posts of your blog. The posts can also be selected on your choice and also the number of posts can vary if you wish.
3. Let us start with just one of them.
4. Now all you need to do do is some brainstorming or simply speaking, "Thinking".
5. While thinking treat yourself as a reader such that you can possibly figure out what exactly you really want to know more on this issue.
6. As you start asking questions to yourself some ideas are going to come out. Note them down as probable posts.
7. Let us suppose you come up with 4 ideas(as in image), start thinking again with each of them. And in this way you could come up with many more ideas.
8. Now continue this steps again with the other 4 topics selected at the start.
9. There is no limit to this chain reaction. You define the limit depending on your needs.
This way we could possibly generate post ideas which is a never ending stock. Thanks Darren.
2. Read in your niche…
This is also a great way which I adopt when I need to start off with a new idea(that I haven't written in past). The selection of post idea can depend on anything you choose, but I suggest you to follow these to get best results.
1. Any post that is not well-written but the post idea is great & you think you could write "much" better than it.
2. Any post idea that can possibly create yet more follow up post ideas in days to come.
3. Any post idea that may be a follow up post for any of your popular post published earlier.
4. Any post idea about services or products that you know got updated with "many more" extra features(enough to create a post with that).
This reading in your niche can be done in many ways like :
1. Venturing into blog archives of your niche for any "Old is Gold" type posts.
2. Or you can simply gallop through the feeds that you read the least.
3. Collect & read updates from Google Alerts on particular topics in case you are looking for follow-up posts.
3. Answer Reader Queries…
This is a very intelligent & communicative way to generate post ideas. There are three major sources to know about what readers are asking for
Comments to your earlier posts
This is a self explanatory point. Just browse your archives & find out if there are any unanswered questions left in comments to your blog posts. Select them & answer them.
Comments to posts on other blogs
If you fall short of questions in comments put to your blog posts, look out for other blogs that you read. There is no cheating in answering them too. Write the article & post a link to your article as an reply to the comment that you used as the post idea. In this way you can also drive traffic to your posts.
Forum Queries :
Log in to popular forums(& if you don't have an account just sign up for one). This is the greatest resource for questions. Grab some unsolved questions there, that you can answer. Now this can be a more productive post if you sum up similar questions(do mind mapping) & write a "how-to" post. Do not forget to post the link to your article as an answer to the question from which you took the post idea. This way you can drive traffic to your blog.
4. Real and Unreal conversations…
Well this seems to be a bit weird to think of such an idea. Actually its cool & is a refreshment out of the boredom of writing in the same way. Lets think of a friend of yours who is really interested in those geeky stuffs as you are(if you are a tech blogger). So when you meet, its almost obvious that you two will talk about this things. Now this conversation can start informally but may end up telling something really useful to the readers like a trick or tweak or how-to. This conversation can also be a real one if you have one such guy in your chat list who likes to talk about geeky things. I have created one example for you. This conversation, if proceeded further, could explain "How to make free calls using Google Voices".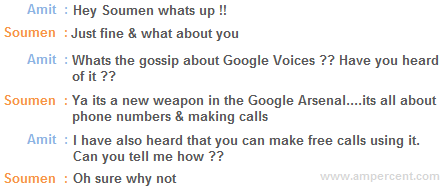 You should actually thank Chris for this great idea.
5. Periodic Listing of Your blog & blogroll…
I have great expectations from this idea. Listing earlier blog posts from your blog as well as other blogs helps you in two ways. The first being, generating a new post idea, the second is,
For your Blog
Periodic listings of your blog like "Greatest posts on Ampercent over the last quarter" if optimized properly could serve as an proper blog landing page.
For your blogroll
Its creates a link love between you & that blogger you listed. And being a widely informative one it sure grabs the attention of your readers.
6. Get yourself into a trouble & fix it…
One of the most original way to generate post ideas. And it always works. I don't think that you guys need more explanation on this. Its as simple as, "Create a mess & Clean it up".
7. Create polls to know what readers have to say…
Finally we always have a option to ask readers for suggestions on which topics they would like to hear about or which earlier topics they would love to hear again. The poll can possibly be on anything that you wish or think is worth asking about.
So now that you have have all these tried-n-tested ways to generate post ideas, I don't think you will ever be short of ideas again. But if you still think there may be any other way that can solve our problem, feel free to recommend them in the comments. And if you think you might want to utilize this free time doing something different(related to blog, but not writing posts) then you may try one of our earlier posts on "9 things to do when there is nothing to blog about". Happy blogging !!!