How To Import your Facebook Friend List On Google Plus
Google Plus is certainly going to be the next big thing.
In it's first day of launch, thousands of people have already signed up for a Google Plus account and many more are still in the queue. The response was so massive that Google had to halt the invitations for a while because the demands were too much to handle.
If you have successfully signed up for Google Plus and want to import your Facebook friends or contact list on your Google Plus account, here is a quick tutorial which will come in handy.
Note: Google plus will automatically import friends from your Gmail account and contacts stored on your Android phone, when you have completed the sign up procedure.
How To Invite Facebook Friends to Google Plus
1. On your Google Plus account, click the "Circles" tab and switch to the "Find and Invite' section as shown below:
2. There you will see three options – adding a friend by name or email address, adding a person from your Yahoo contact list and adding a friend from your Windows Live hotmail account.
3. Unfortunately, importing contacts and friends from Facebook to Google Plus option is not present at this moment but we will use this quick workaround and get it done within 5 minutes.
4. Open your Yahoo email account or Windows Live hotmail inbox and export your Facebook contacts to Windows live hotmail account. The following screenshots show you how to do that, you may also click the above link and read the tutorial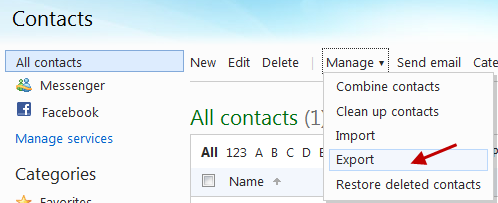 5. Both Yahoo and Windows live Hotmail allows you to download the email addresses and contact list of your friends as an Excel CSV file. But we will skip this as Google Plus has no option to upload a CSV list of email address of friends and send them invitation.
6. Those who don't have a Yahoo or Windows live account can use this Google Chrome extension to export the email addresses of Facebook friends.
7. Once you are through, go back to your Google Plus profile and switch to the "Circles" tab. Navigate to the "Find and Invite" tab and click on either Yahoo or Windows Live hotmail icon

8. Sign in to your Yahoo or Windows Live account and authorize Google plus to connect your yahoo account with your Google plus profile.
9. As soon as all permissions are granted, you will see that all the email addresses of your Facebook friends have been added to your Google plus account.
Note; I have used my Yahoo account to import the email addresses of all my Facebook friends in Google Plus. If you don't have a yahoo account, you can use Windows Live – both of them works pretty fine without any problems as such.
10. Now you can drag and drop your friends in any of the circles and invite them to try out Google Plus. If any of your friends have already joined Google plus without your invitation, you will see his image in the "People you have added" tab.
This is by far the easiest way to send a Google plus invitation to some or all of your Facebook friends. Here are some more posts in our Googlr Plus series, which we think you should check out:
Stop email notifications for specific posts in Google Plus
If you have any cool Google plus tips and tricks, please share it in the comments section.