Rumor: Microsoft Is Expected To Release Lumia 650 Soon
Tech giant Microsoft had produced wonderful products last year. Great products like Surface book, Surface Pro 4 , HoloLens, Windows 10 mobile devices in their Lumia Series – 950, 950XL and 550 came out last year and got good reviews all over. This time, Microsoft confirms specifications of Lumia 650 as a successor to last year's Lumia 640.
According to Venturebeat which was able to access the prototype of Lumia 650 with code name Saana or Sansa, confirms the specs of this device.
According to that, Lumia 550 is expected to have a premium look with nice finish curved body. This device is going to have a 5 inch HD LCD Display with 1280 x 720 pixels with Corning Gorilla glass protection, same as its predecessor, Lumia 640 which we had seen last year. Even though this isn't Microsoft's best display, but on a 5-inch screen, 720p display wouldn't disappoint you with responsive touch display, brightness and nice viewing angles. If you compare it with Lumia 550 which came out last year which had 4.7 inch display, this would be a slightly larger display size. At this point, we don't have information about it's dimensions and weight yet, but expected to be released when the company officially announces the details.
Under the Hood, Lumia 650 packs a 1.1 GHz quad-core Qualcomm Snapdragon 201 processor, the same one which we had seen in Lumia 550 last year. Having 1GB RAM and 8 GB flash storage which can be expandable using Micro SD Card, Lumia 550 runs Windows 10. Even though the core specs of Lumia 550 are far less compared to many rivals, but it would be sufficient to run Windows platform smoothly. Even though the budget of this smartphone hasn't been known yet, by specs, we can expect it to be a budget device. So, even though you cannot run more games and throw more apps and multimedia stuff on this phone, expandable storage would come for rescue. Since its running Windows 10, we can expect this device to have Cortana, while Windows Continuum and Hello features need official confirmation.
Coming to camera section, Lumia 550 appears to have a 8MP primary camera with Flash on the back, and 5MP sensor on the front. Again, this isn't the best camera in Lumia Phones yet so on cannot expect amazing quality pics from this device. Although complete features of this camera sensor aren't available yet, one can expect decent performance and get some detailed shots in daylight and be able to shoot HD videos. Selfie camera also would give you decent photos.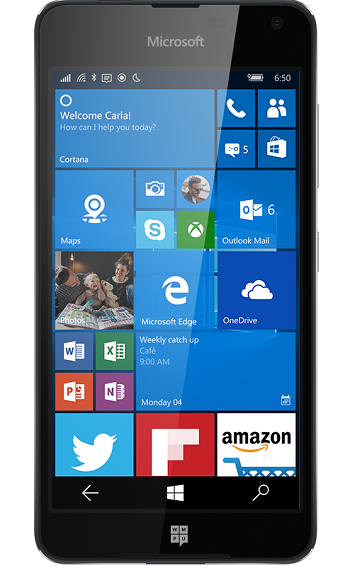 Lumia 550 has a 2000 mAh battery, which is a reduction compared to Lumia 550 and 640, but this device is expected to come with wireless charging support, according to the source. Since the display and processor aren't that high-end, 2000 mAh battery would give you nice backup. Coming to connectivity, we don't have confirmation on LTE support, but it is expected to have a 4G variant. Lumia 550 is also expected to be a dual SIM device, but needs official confirmation. Other connectivity options include Wi-Fi 802.11 b/g/n, Bluetooth 4.1 LE, GPS/aGPS.
Microsoft is expected to announce Lumia 550 on first quarter of 2016 on their big event MWC this year.
Expected Specs of Lumia 650
1.1 GHz quad-core Qualcomm Snapdragon 210 SoC
5 inch HD display with Corning glass protection
1 GB RAM, 8 GB flash expandable storage
Windows 10 Operating System
8 MP auto focus primary camera with LED flash
5MP front facing camera
3.5mm audio jack, font facing speaker, FM Radio
Dual SIM (needs confirmation), 4G (needs confirmation), Bluetooth 4.1, Wi-Fi 802.11 b/g/n, GPS
2000 mAh battery with wireless charging (expected)
Stay tuned for more detailed specifications of this device.
Image credit : VentureBeat