How to Open Links in Background on Android with Flynx
Let's assume that you are using a note taking app like Google Keep, Evernote etc. or any social networking app such as Facebook, Twitter etc. on your Android and you have to open some links of some websites for any particular reason. What you will really do?
You will certainly make use of a third party browser like Google Chrome, Firefox or Opera Mini etc. to open up the link instantaneously. If you wish to know about that webpage right away, this specific procedure happens to be fine. It would also be fine if you will open those URLs later after completing your current task.
Alternatively, assume that you are using Google Chrome on your mobile and you need to open a link from a different browser. At this sort of moment, Link Bubble works efficiently. However, today I am about to introduce to you such an Android application which enables users to open links in background on Android.
Introducing Flynx. This is totally free and incorporates more features than Link Bubble. It functions with assorted apps including Facebook, Twitter, Feedly or anything else, whatever you want. The workflow is simple and Flynx is very easy to implement.
How to open links in background on Android with Flynx?
Prior to getting began with Flynx, just download the app on Android mobile that is running Android 3.0 and later version. Flynx doesn't require any settings or any registration. To work with this, just tap on any link. You will get a popup as usual.
Tap on the Open button and select Flynx on the next popup.
You can select either Just Once or Always. After that, a small web icon will be appeared on the left side of your screen.
Just tap on the icon to open the browser, which comes with Flynx.
This integrated web browser has several options. You can get couch mode or Reading mode, copy link, share link and do more others.
Read Also: 2 Ways To Make Facebook App Open Links Externally
Features of Flynx
Although, Flynx has numerous useful features, yet, the following list contains only most useful features among them.
Open link in background
It has integrated web browser
Web browser has couch mode, night mode etc.
You can save article for reading later
It helps users to read their favorite articles even in offline
Open multiple links
Settings of Flynx to get most out of it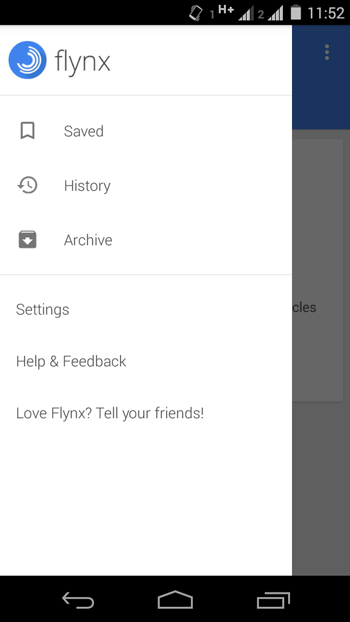 Flynx has some options what need to be set up. You can use it's settings to run it according to your requirements. Some of the options are as follows,
Change bubble size
Change bubble alignment
Enable/disable Quick Read mode, Link Shortening, Double tap to save link
Change default browser
Enable/disable JavaScript
Change text scaling
Final Verdict
Instead of opening links during your work or while reading an interesting article, this is far more productive to open them after finishing your current work. For doing so, you can also save your link in clipboard and then open that at last. But, this technique doesn't work when you have multiple links. At such moments, Flynx works really well and it doesn't contain any issue at all. You can easily use this app to open links without leaving the current app.