Polaroid Announced Two New Smartphones At CES 2016
The US based company Polaroid which is famous for delivering quality cameras, has announced two new smartphones in ongoing CES 2016 event, which is a great platform for tech products happening now at Las Vegas, named Polaroid Snap and Polaroid Power. Each variant is available in different sizes and memory configurations.
Polaroid Snap
Polaroid Snap is cheaper one between the two and has 3 variants with different screen sizes – 5″, 5.5″ and 6″. Weird thing though, the display resolution is same among all the three – 720p (1280 x 720). Which would be nice to look at in 5″ screen, average on 5.5″ and below average on 6″ screen. If you compare all the three by screen size, you would clearly able to find difference in display quality. It would've been better if display resolution increase w.r.t screen size. Anyway, Under the hood, Polaroid Snap features Quad-Core processor, even though the chipset is not known at this point. Coming to software, this device runs Android v5.1 Lollipop from the box, even though we can expect Marshmallow Update soon. On storage side, again, Snap came out with different options. There is a 1GB RAM, 8GB ROM variant and there is 2 GB RAM/16GB ROM variant. The company says the storage can be expandable, but the limit is unknown yet. Polaroid Snap features a 13 MP primary shooter with LED flash on the back, and 5 MP selfie camera with flash on front. The connectivity options aren't available in detail yet, this phone is expected to support 4G, GPS, Bluetooth and Wi-Fi 802.11 b/g/n. The battery capacity of PolariThis device got announced at $129.99- $179.99 price bracket (approx ₹8.6k – ₹11.9k) and expected to hit the market soon this year.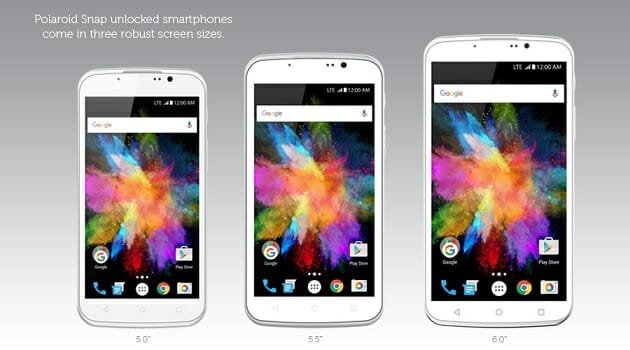 Spec sheet of Polaroid Snap
Quad Core Processor
5″, 5.5″ and 6″ screen options with 720p HD display
1 GB/8 GB and 2 GB/16 GB storage options with expandable storage feature using Micro SD
Android Lollipop v5.1, upgradeable to Android Marshmallow
13 MP primary camera with dual LED flash on the back
5 MP front facing camera with LED flash
4G LTE, Bluetooth 4.0, GPS, Wi-Fi 802.11 b/g/n (needs confirmation)
Available Colors – Pink, Blue, Black and White
Polaroid Power
Polaroid Power is high-end device compared to Polaroid Snap interms of specifications on paper and comes as a single variant. This device features a 6″ 1080p FHD IPS display – which would perform nice giving nice viewing angles, touch responsiveness and color production and it is a big device. Under the hood, Polaroid Power features 64-bit octa-core processor, which would run definitely faster than Snap. With 3GB RAM, 32GB flash storage which is expandable using Micro SD Card slot. Clearly you can see Polaroid Power has more core specs compared to Snap and would definitely handles high – end processing, Graphical games smoothly without any lag. You can also store your favorite music and videos on this device since it has more memory, and again, which can be expandable. Polaroid Power features a 13 MP primary camera with LED flash on the back same as in Snap, but 8 MP front facing camera with LED flash, which works better than 5 MP shooter present in Snap. Polaroid Power also runs Android Lollipop 5.1 from the box as Snap,and which can be upgradable to Android Marshmallow. Coming to battery, Polaroid Power seems to be having a 3000 mAh battery inside, along with the company additionally supplies additional 8000 mAh slim external power bank allowing you to use your device when you aren't anywhere near to a power socket. So total, you would get 11000mAh battery with this device. Even though the connectivity and other features needs confirmation, this device expected to support 4G, Bluetooth 4.0 or higher, Wi-Fi 802.11 b/g/n and GPS. Polaroid Power is announced at $249.99 , which is approx ₹16.7k and expected to hit the market soon.
Polaroid Power Spec Sheet
64-bit Octa-Core processor (chipset unknown)
3 GB RAM and 32 GB flash storage, expandable using Micro SD card
6″ 1080p FHD IPS display
Android Lollipop v5.1 upgradeable to Android Marshmallow
13 MP primary camera with LED flash
8 MP front facing camera
4G LTE, Bluetooth 4.0, Wifi 802.11 b/g/n, GPS
3000 mAh battery + 8000 mAh external power bank
Available in platinum color