7 Hacks to Reduce Firefox Memory Usage without Reinstalling
Overtime as you browse the Web Firefox can consume a heavy amount of memory and slow down your Workflow.Learn how you can reduce the memory requirements of Firefox without reinstalling it.
Step 1 : Backup your Existing Firefox profile and experiment in another profile
It would be better if you create a Separate profile in Firefox and experiment the hacks that we are going to describe in this article.If you are not happy you can easily  restore your current settings and preferences. You can also Completely backup your existing Firefox profile in your hard drive and restore it later.
Do not forget to Back up the bookmarks as an HTML file from Organize Bookmarks.You will need the Bookmark backup later.
How to Create a new profile in firefox
1.Open the Run box from the Start menu and paste the following
"C:\Program Files\Mozilla Firefox\firefox.exe" –P
2.Create a New profile for experimenting.Note that The profile "default" is your Existing Firefox Profile.
3.Start the New profile.This New profile won't contain any add ons,Themes or extensions.You can back up the bookmarks in this profile from the HTML file.You can always revert to your older profile by repeating step 1.
Step 2 : Assign a Fixed  Memory Cache in Firefox
Firefox uses a large amount of System memory by default.You can assign a memory cache for firefox so that it doesn't interfere with your system memory.
1.Type about:config in the Firefox address bar .
2.Paste browser.cache.memory.enable in the Filter Field.Set the Value to true by double clicking it.
3.Right click and select " New Integer".Enter the Preference name as browser.cache.memory.capacity
The value you enter depends on the amount of RAM you have.A typical setting is 4096 for 256 Mb and 8192 for 512 Mb.
Step 3 : Release Memory When you Minimize Firefox
1.Type about:config in the Firefox address bar .
2.Right-click in the browser and select New -> Boolean from the pop-up.
3.Enter  config.trim_on_minimize set the value to true and hit OK.
This reduces the memory usage of Firefox when you Minimize it.
Step 4 : Reduce the Browsers Session History
By default Firefox can save the session history of 50 websites in its memory.That means If you Surf from link 1 to link 2 and continue to browse 50 links firefox will store information of these 50 links in its cache.When you are on the 50th page you can press the back button and return to the number 1 link after 50 Back button clicks.
The benefit is that hitting back will load the website from memory cache which is a lot faster than from normal cache or requesting the website from the server again.
But the Number 50 is overkill ! You can limit it to your desired number (I think 10 is Sufficient)
Type about:config in the Firefox address bar and find: browser.sessionhistory.max_entries
Right click the item and select Modify to change it to a lower value.
Step 5 : Do not Accumulate Download History
By default Firefox is configured to save and accumulate your download history.If you don't use this feature then consider disabling it.
Navigate to  Tools -> Options –> Privacy  and uncheck the checkbox "Remember what I have downloaded "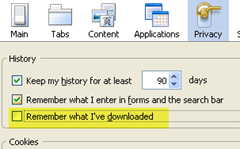 Step 6: Speed Up Page Display Time
Firefox starts rendering HTML content only after a fixed time interval.Setting that interval to Zero  ensures that the page loads faster on entering a URL.
To achieve this open Firefox and type  about:config in the address bar.Create a new Integer preference by right clicking anywhere on the page.Type nglayout.initialpaint.delay as preference name and set its value as 0.
Step 7 : Avoid Add Ons – Go For Bookmarklets
Add ons are great but consumes memory heavily.Moreover add-ons are not flexible with different versions of Firefox and require Updates frequently.So avoid Addons and use Bookmarklets.I use only two Addons (Firebug and feed Sidebar).
Stumble a page : Forget the Stumbleupon Toolbar.So many Useless Buttons i practically never use and it also takes space on the screen.Use this Bookmarklet to Stumble any page.
[Just Drag and drop the Bookmarklet links in your Bookmarks toolbar ]
Screenshot : Grab a Screenshot from any webpage using this bookmarklet.You can also Upload your Screenshot to Other image Hosting services using this Bookmarklet.
Short URL : Using this Bookmarklet you can create Tiny url easily. A Replacement of  TinyURL Creator.
Download PDF : This Bookmarklet allows you to Download a Webpage in PDF format.
Digg Bookmarklet : If you wish to Digg a page this Bookmarklet Will take care of it
Bookmark on Delicious : Using this Bookmarklet you can Easily Bookmark a page on delicious.
Check Google pagerank : Check the google page rank of a page using this.If you use Google toolbar only to know the Pagerank of a page you can uninstall it and Use this Bookmarklet instead.
A big list of important Bookmarklets can be found here.  More Resources on reducing Firefox memory usage