10 Most Recommended Apps For Samsung Galaxy S10, S10+, S10e
You might have already got the news that Samsung launched four different mobiles to extend their "S" series and they are Galaxy S10, S10+, S10e, and S10 5G. Although the S10 5G won't be available in most of the countries, you can purchase other three smartphones from being almost anywhere in the world. If you are about to purchase or have purchased any of the devices in the upcoming sale, you should check out some of the recommended apps that you can install in these mobiles.
Most Recommended Apps For Samsung Galaxy S10
The apps mentioned below are compatible with Galaxy S10, S10+, and S10e.
1] Browser: Google Chrome
Almost every internet-capable Samsung mobiles come with their native browser. However, most people do not like that since it is buggy and it doesn't fulfill all the requirements. Therefore, Google Chrome is suitable for most people. Of Course, you need to have a good amount of RAM as well as storage, but that is all it needs. From smoothness to security, you can find everything in Google Chrome.
However, if you are concerned about your online privacy, security, trackers, etc. you can opt for some secure browser for Android.
2] Note-Taking App: Evernote
In this busy world, people have become forgetful. If you are one of them and you want to manage everything well, your Smartphone can help you out with the help of smart apps. Evernote is not only an excellent note-taking app but also it helps you create a shareable list so that you can collaborate with friends or any team members. The user interface of Evernote is uncluttered and therefore, you should not find any problem using it to organize your notes.
3] List Maker: Google Keep
Not only note-taking app but also Google Keep is a list maker, and it gained popularity as a list maker app only. From a very low-end phone to very high-end mobiles such as Galaxy S10 or so, you can install Google Keep in any mobile. As this app is powered by Google, you should not find any issue while using it. You can use colors to categorize notes, add labels/tags, create plat text note, make bullet point list/checkbox, etc. The most important thing is you can share a list privately if someone has a Google account.
4] Professional Video Recorder: FiLMic Pro
The Samsung Galaxy S10 and S10+ have triple camera setup on the rear side. On the other hand, the Galaxy S10e comes with the dual-camera setup. In simple words, they offer a top-notch image and video quality. If you do not like the inbuilt video recording system, and you want to use your phone camera as a professional video recorder, you can use FiLMic Pro app. Although this is quite costly, it worth every penny. It comes with tons of functionalities, and you will be amazed to check them out.
5] Document Scanner: CamScanner
Nowadays most people use digital document instead of physical documents. If you have a paper document and you want to scan it but your scanner is not working, or you do not have a scanner, you can use the CamScanner app to get the job done. CamScanner lets you scan any document and convert it to PDF so that you can share it with someone. The quality of the scanned document is not bad, and you should not have any complaint regarding that. Although this app is free, you can unlock all the options by spending a couple of dollars to purchase it.
6] Music: Spotify
Regarding, stream songs online, only a few things come to mind, and Spotify is one of them. Spotify allows you to stream audio from your favorite artists so that you can spend some quality time while being alone. It is available for free, but you can purchase a subscription to get some more options in your hand. The user interface looks pretty good, and the search works well. Having said that, if a song is available on Spotify, this is very easy to find out that.
However, if you live in India and you want to listen to some regional songs, you can use Gaana, which is one of the best alternatives to Spotify.
7] Video Streaming: Netflix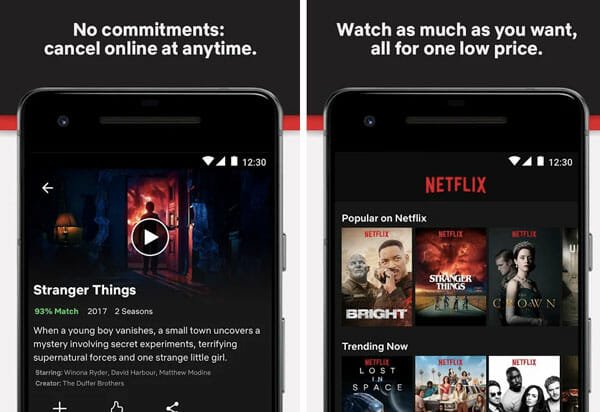 If you prefer watching a movie at your home, you can go for Netflix, where you can find some of the best content from around the world. From the latest movies to TV shows, everything is available on Netflix. Also, the subscription costs not that high. However, if you compare it with other services such as Hotstar or Amazon Prime, you might find it expensive. You can watch HD or Ultra HD content on Netflix, but you must have the respective subscription.
8] Video Player: VLC
VLC is one of the best music and video players, which is available for Android and some other computer platforms. People use VLC because it allows you to play almost any video format. Another very useful and important feature is you can stream online video if you can find the proper link of the file. It is quite easy to find a particular video even if you have tons of it on your mobile. The UI looks good, and it shows all the essential options on the player.
9] Password Manager: LastPass
Apart from entertainment, you should take care of your online security. If you need the best password manager with cross-platform support, you can use LastPass Password Manager, which is available for free. You can install and use this app in your latest Samsung mobiles and synchronize all the passwords from an existing account. However, this is recommended to use a master password to lock down this app in your mobile.
10] Car Navigation: Android Auto
If you have a car that supports Android Auto, you should install this app so that you can synchronize your mobile with your car. By doing that, you can use Google Maps, play media files, check messages, call someone or receive calls, and much more. You can also use the Google Assistant to use voice command to perform a particular task.
These are some of the apps you can install to get started with your latest mobile. You might need these apps in daily life. However, I didn't mention Facebook, YouTube, Twitter, WhatsApp, etc. since almost all the people download them without searching for app recommended on the internet.