Top 7 Most Innovative Gadgets of 2014 [#4 is the Best]
2014 is going to end very soon and a whole new year is coming soon. There were tons of ups and downs in this year in different sectors such as technology, world culture, business, and politics and in everything. Although previous years were covered by tons of technological innovations but 2014 is such a year, what world has not seen ever.
In 2014, tons of gadgets have been launched and more than that are still under development. Every gadget lover is very happy because their favorite company has brought an evolution in their daily lifestyle by launching next generation gadgets those are much more powerful and attractive.
However, today I am going to enlist some most innovative gadgets those have been launched in this year, 2014.
#1 Samsung Galaxy Note Edge
When, I started using mobile few years back, I used to download pictures of some technically impossible gadgets and a phone like Samsung galaxy Note Edge was one of them. However, Samsung has made that impossible gadget in reality. Samsung Galaxy Note Edge is not like other regular phones, which has a one side display. Instead of that, you can find a two sided display, as the image is shown above.
#2 Oculus Crescent Cove VR
This is another most innovative gadget by Crescent Bay. If you do not like to sit on a chair and having a gaming console or video watching experience, Oculus Crescent Cove VR is the perfect gadget for you. Oculus Crescent Cove VR is a 360 degree head tracking system that is much faster, lighter and obviously better than any other similar gadgets.
#3 iPhone 6 Plus
I would be wrong if I say only iPhone 6 Plus since iPhone 6 is also such a brilliant innovation of Apple in the 2014. Both of the newly launched iPhone flagships are awesome in terms of graphics, video, camera and whole performance. The most important thing is you will use Apple Pay and many other features on both of the next generation mobiles.
You Might Like These:
#4 27-inch iMac Retina Display
Even though, Apple had 27-inch iMac with 4k display but now, you will get 5k display, which is one of the out of the box innovations. In 5k display, you will ~14.4 million pixels and each pixel is divided into three sub-pixels. This where 27-inch iMac excels. If you are a video editor, graphic designer or coder or no matter what you are, you must have this gadget to get far better user experience.
Read Also: 3 Things That New Retina Display iMac will Change Radically
#5 AnkiDrive
If you want to have some physical car race games, AnkiDrive should be fit in your budget as well as in room. This is an indoor gaming console with outstanding gaming features. The whole package has some gadgets such as some cars, track, remote etc. the most beautiful thing is each car can scan the track 500 times per second. The second most beautiful thing is you can control those cars with your iPhone or iPad. Do, check the video for a review.
#6 iPad Air 2
This is probably the slimmest iPad that Apple have ever made. The thickness of iPad Air 2 is just 6.1mm. On the other hand, it has 9.7-inch LED backlit multi-touch display, which has 2048 x 1536 pixel of resolution. Apart from that, you will get A8X chip with 64-bit architecture that is mainly designed for this particular tab. iPad Air 2 comes with 8 megapixel of iSight camera, Touch ID and many more features those will blow your mind.
Read Also: Full Specifications of Apple iPad Air 2
#7 Nexus 9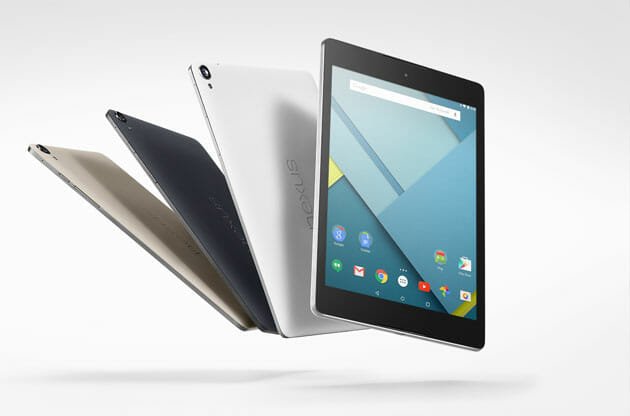 Previously, Google has a bond with LG to manufacture their Nexus series. However, no, Google has tied up with other companies such as HTC, Motorola etc. to build their Nexus phones and tablets. Nexus 8 is the starting of that tie up. Anyway, Nexus 9 is a great tablet that can compare with other similar gadgets to win. You will get 839-inch IPS LCD display, 2.48 x 1536 pixel of screen resolution, Corning Gorilla Glass 3, 64-bit NIDIA Tegra k1 Dual Denver CPU and some other awesome features. Apart from them, it has 2GB of RAM and come with 16 GB and 32 GB of variations.
So, here is our list of top 7 most innovative gadgets. Today, I have mentioned mainly mobiles and tablets (except two). However, stay tuned. I am going to extend this list in near future with some other innovations those meet your lifestyle and work like a lifestyle betterment solution.
Disclaimer: As none can make everyone happy, these following gadgets may not be as innovative as it should be for many of you. This following list is made by some considerable things including how they work, price, what kind of innovation it has and many more. Therefore, if any gadget is not up to the mark for you, that doesn't mean that is the same gadget is useless.