AVG LiveKive: Another Cloud Sync And File Backup Service Offering Hefty Online Storage For Free
Of all the cloud file backup and sync tools available on the web, Dropbox is certainly the most popular one.
The service offers cross platform sync and backup, offers 2GB of free space to all users, while there are different ways to increase Dropbox storage space without paying a dime.
The grand daddy of cloud file backup – Windows Live Skydrive is again ideally suited for those users who do not need a cross platform file sync service and want an easy way to upload almost anything to the cloud and free up some hard drive space.
Looks like the cloud sync market is under heavy demand since a lot of companies are deploying cloud backup and sync services to customers for free. There are already a good number of prolific names on the ground of online file backup – Box.net, SugarSync, ZumoDrive, Amazon's cloud drive and now here is another healthy competitor.
Meet AVG LiveKive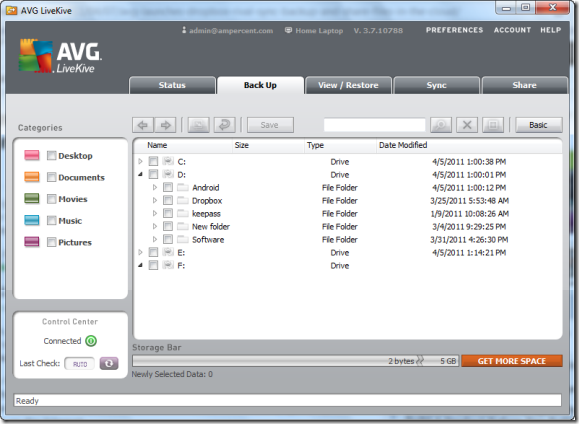 AVG Liveive Review: Get Upto 5GB of Cloud Storage Space
AVG Livekive offers a hefty 5GB of online file storage for free which looks promising since only Box.net and Sugarsync are two reputed companies who provide the same storage space and AVG Livekive wants to draw the attention of Dropbox and SugarSync fans to their latest file backup service, launched yesterday.
Once you have downloaded and installed the desktop application for Windows or OSX (sorry to Linux users, AVG LiveKive does not supports Linux operating system at this moment), backing up files to your AVG account is fairly simple. Select the files and folders from desktop, My Documents, My Pictures or from any other directory on your computer, and the application will backup everything and store it into your AVG LiveKive account.
When you want to to download the same files or folders on another computer, you have two options to consider. Either login to the AVG Livekive web interface and download selected folders, or you may also install AVG Livekive's desktop application on any number of computers and perform the file sync operation. It's all very basic and quite similar to how Dropbox works.
The only downside of AVG Livekive is that there aren't any mobile applications or mobile clients available which can be used to sync files from a smartphone to your Windows computer. Unlike Dropbox which has an Android as well as iOS app, AVG LiveKive hasn't gone mobile yet.
The advantage of AVG LiveKive over Dropbox and other file sync tools is that LiveKive offers a scheduled backup feature which can be used to periodically backup important files, documents and folders from your computer to your AVG account. Setup a simple scheduled run from LiveKive preferences and the application will take care of backing up important folders and files every single day.
The pricing options are again lucrative – users can pay $50 a year and get 25 GB of online storage. Need unlimited online storage space ? Spend a little more and pay them $80 a year, AVG claims to provide unlimited cloud space where you can backup files, movies, documents, zipped archives, PDF's and what not.
Overall, LiveKive looks quite impressive but considering the fact that Dropbox, Mozy and other file backup services already have a large user base, I have doubt how many users will make the switch.