9 ways to Find Unregistered and Interesting Domain Names
Looking for  new Domain Names ? See Unregistered Domain names and register Them Straight away !
Domain pigeon can be used to find Unregistered domain names.The homepage features a List of currently Most popular  Unregistered domain names.Just Hover Your Mouse over an Unregistered domain and It shows you How many people are currently Interested In that particular domain.It shows you In real time as The domains are registered.You can also Search and sort through Unregistered domain names according to their popularity or In alphabetical Order.
What makes Domain pigeon Unique is that You can see How many people Looked at a Domain and How many Clicked back.The domains that Get more attention darken In color.Registered users (one time fee of 15 $) can see a larger catalog of domains.(Note : The site doesn't Sell domains.)
Instant Domain Search : As you type In a domain name it checks the availability of .com,.org and .net domain names.The added advantage is that you can find additional information about an already registered domain.( e.g Who is Hosting,Alexa traffic chart etc).The site also Shows you a rough estimate of the Registering Costs with different registrars (If available)
Domai.nr Looking for peculiar Domain names ? If the domain name that you are looking for isn't available and You want something Unique or peculiar then Head straight to Domai.nr.This site lets you search for Unconventional Domain names (e.g  blog.gs) in case its .com version is not available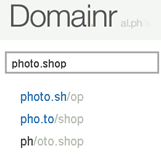 Brandgopher :Simple and Smart .Type in the Domain name that You wish to see and it shows you whether .com,.net or .org Domains are available or not.Additional tools include querying the WHOIS information,View Alexa traffic chart etc.You can Build a list of your Interested domain names and Search them all at  once.Moreover,you can email your list to anyone.(Also see Brandbucket for some cool domain names and Brands).
Domjax.com : Domjax Tells in real time whether a .com extension of the domain is available or not.The added feature is that You can also See whether boutique extensions such as .co.uk,.net,.edu etc are available or not.Just Hover your Mouse and See the information about a Domain in real time.You can also Find additional Information like Owner info,Traffic info,Html validator URL trends and other SEO tools.(A Similar site is AJAXwhois )
Related : Recommend Doreo Hosting For Domains
Some Domain name Search Engines :
Xona Domain Search Engine : Finally Try the Xona search engine.It does not handle any domain name registration but it is a unique domain hack search engine that calculates all the possible permutations and combinations of web domains for you.
DomainsBot :Enter your Primary Keywords or compound Statements and this website shows you the list Of available Domain names.It can be useful when you want to narrow your search according to your ideas.Add The Search bar To Firefox and Start Searching ! .( DomainsBot was founded in 1999 by Max Ralli and Daniel Ruzzini, then 18-year-old college students)
Dislexicon – Takes common words and adds suffixes and prefixes. It even gives you the meaning. This site is great for finding short domain names that look like they could be real words.
JustDropped – This site lets you search for domain names that have recently expired. You get a few searches for free with limited results.
Do you Know any Website that does a Similar Job or even Better ?