HTC to Launch Desire 828 on November 25
According to the report, HTC has sent out invitations for an event in India on 25 November and this is highly expected to get two new smartphone called HTC One A9 and HTC Desire 828. The new smartphone of HTC One series is very impressive. Although, some people claimed that HTC has cloned iPhone, yet, the overall looks has some differences as well. On the other hand, HTC Desire 828 is yet another mid-range Android smartphone, which is priced at around Rs. 16,500 in China.
However, both of them will help HTC to keep their balance as HTC is facing some issues in India because of other companies like OnePlus and Motorola. If you have the invitation for the event, you should definitely know about those two smartphones including HTC Desire 828. You can check this article to know more about HTC One A9. If you are excited to check the specifications of HTC Desire 828, here you go.
HTC Desire 828: Full Phone Specifications
This is not awesome but quite good smartphone at this range. It has some features; what other companies do not provide. But, in many cases, this is confirmed that it comes with some drawbacks as well. To clear all your doubts, do rear this article.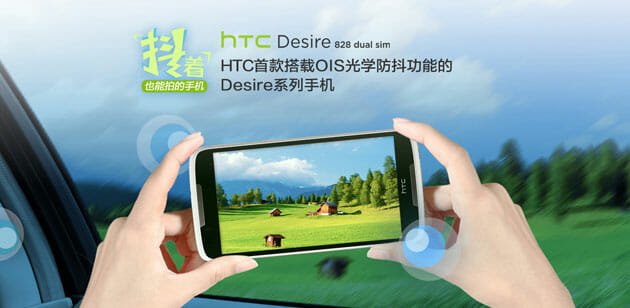 Body
This is not impressive but still the body is good enough. It carries the Desire series' tradition through the looks. According to the teaser image, you will get the speaker is included in the front side. On the other hand, a camera is also included in the front side. In the back, you can find the HTC logo along with the camera and flash. The white edition of HTC Desire 828 looks quite good, yet, it seems the black edition would be looking better. This is pretty big mobile, actually. The height of this mobile is around 6.21-inch. The whole dimension is 6.21 x 3.11 x 0.31-inch. It seems, HTC wants to build bigger mobile at this price range. Obviously, you will get problems to grip this mobile because of the hugeness. At the same time, you will get better eyesight as well.
Network & Connectivity
This is a dual-SIM Android mobile, which will be running Android 5.1. However, HTC has an exciting plan to provide the Android 6 update in near future. On the other hand, you should know that this is a 4G LTE enabled smartphone. This is needless to mention that 2G and 3G are also available. As this is Indian version of HTC Desire 828, you cannot get any similarities in network frequency since it varies from region to region. Having said that, Wi-Fi hotspot, Bluetooth, GPS, radio etc. are also available in HTC Desire 828.
Display
In terms of display, HTC always comes first and this time, they have included a 5.5-inch capacitive touchscreen with 16M color density and ~401 ppi pixel density. Although, the body is not impressive yet, the screen will fulfil that completely. As usual, you will get HTC Sense 6.0 UI and multi touch. You should note that the screen resolution is pretty big as it has a resolution of 1080 x 1920 pixels. In simple words, HTC Desire 828 is really good in terms of display.
Chipset
It doesn't need to mention that Mediatek chipsets are much better than Snapdragon chipsets – it depends on version though. The good news is HTC Desire 828 comes with Mediatek MT6753 chipset along with Octa-core processor and the clock speed in 1.5 GHz. Therefore, you should not get any issues for multi-tasking and other critical situations as these two things can handle them easily. On the other hand, you will get Mali-T720MP3.
RAM & Storage
Along with Mediatek MT6753 chipset and octa-core processor, you will get 2 GB RAM, which will power up your mobile by 2x. Although, 2GB RAM is common nowadays, yet, the power is not too low. You will certainly get a great experience because of having such a great configuration. On the other hand, you will get 16GB internal storage, which can be extended up to 200GB using microSD card.
Camera
HTC's camera is always better than most of the other companies. Here, you will get a 13MP rear camera along with some features like autofocus, LED flash, touch-to-focus, face detection, HDR, panorama and more. The most interesting feature is optical image stabilization, which makes the image better than other camera. Along with the 13MP rear camera, you will get a 4MP front facing camera. The another interesting news is you can record video in 1080p at 30 FPS using both of the cameras.
Battery
HTC has not compromised with the battery as well since it comes with Li-Ion 2800 mAh battery, which is capable of providing 24 hours talk time on 2G and 20 hours talk time on 3G. Therefore, if you play games on HTC Desire 828, you should get a quite good battery backup. Obviously, this is in the initial days. Going forward, it will start providing less backup.
What do you think about this mobile? Does it fulfil your demands?