Microsoft Lumia 950 and 950 XL : Features, specifications and comparison
Microsoft had very big event a couple of days ago this year. The software giant had released the brand new Surface Book, Surface Pro 4 along with some amazing devices in it's Lumia series : 950, 950XL and lumia 550. All three devices run latest Windows 10 Pro software. While lumia 550 is 4G enabled device with normal specs, lumia 950 and 950XL came out with some cool features this year and got everybody's attention already. These two guys came out with some huge improvements on hardware department as well as in software. With these two devices, Microsoft is planning to gain it's enterprise market with some cool new security features. So let's take a quick look at specifications and then features and try to decide which one is better and why.

[Image source: Phonearena]
Lets take a quick look at specs on paper.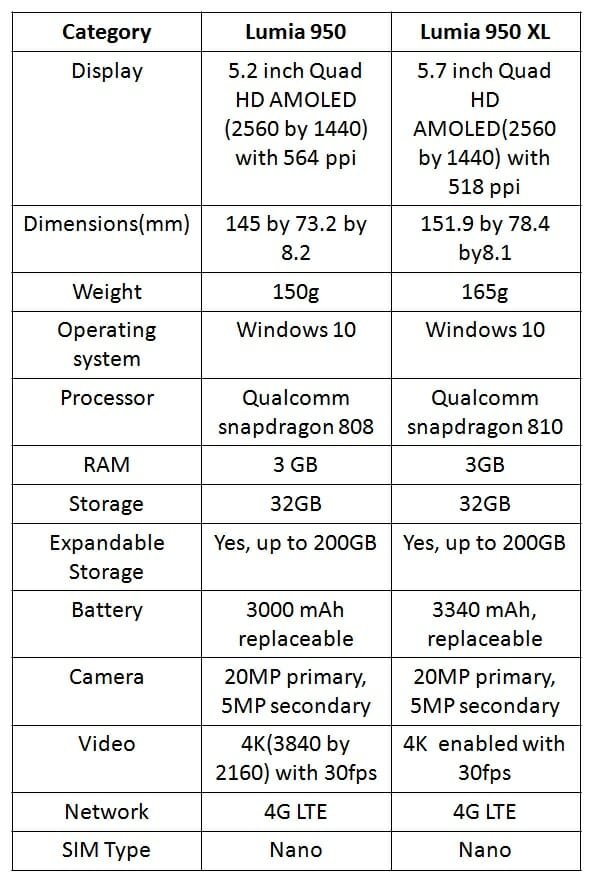 Design and Display
This year Lumia phones came out with some new design with great display. With plastic body and curved finishing, both devices look cooler than before.
Lumia 950 got a 5.2inch Quad HD AMOLED display with 2560 x 1440 resolution and 564 pixels per inch. With its TrueColor (24 bit/16M) and AMOLED ClearBlack technology, this would give some better pixels for the display with some great viewing angels.
Lumia 950 XL, on the other hand, got a bigger 5.7 inch display with same display technology and resolution, but with 518 pixels per inch. Meaning, less pixels compared to 950. The only difference between these two is size of the display only. If you are a lover of big smart phone, then you can chose XL, but if you are a fan of more pixels and crispy display, 950 would suit you.
Coming to dimensions, 950 XL has more height and width as you can see in spec sheet. Both differ thickness just by 0.1 mm. XL weights 15g extra due to its dimensions.
On paper, however, 950 seem to have more display features than 950 XL. XL got protected with Corning Gorilla Glass 4, while 950 got equipped with Gorilla Glass 3. Other than that the company claims that both devices support features such as Orientation sensor, Sunlight readability enhancements, Easy to clean, High brightness mode, Lumia Color profile, Wide viewing angle, , Automatic brightness control.
Operating System, Processor and Memory
Both flagships come with new Windows 10 OS this year. 950 Got a Qualcomm Snapdragon 808 1.8GHz hexa-core processor, while Lumia 950 XL has Qualcomm Snapdragon 810 Octa core processor. Since it has more cores, XL would get a thumbs up in processor department.
Coming to storage, both devices got embedded with 3GB RAM. This is a huge bump in Lumia devices, as one can see 2GB RAM devices up to now. Windows OS would run pretty well even on 500MB RAM without any issues, but this huge improvement would help both devices to run faster. Both devices have SD card slots, using which the storage can be expanded up to 200 GB.
Both devices come as 32GB storage variant.
Camera
Both devices 950 and 950 XL came out with 20 MP auto-focus primary camera with f/1.9 aperture. Which means both devices are capable of taking some crispy 4K videos. Both devices got Triple LED natural flash also to take some better quality photos on low light. Microsoft added its own features such as Backside-illuminated image sensor, PureView, True 16:9 sensor, Fast Focus, High resolution zoom to the devices.
Coming to front camera, both devices have Full HD 5MP wide angle sensor. This would help taking some nice selfies, video calling etc.
Both devices are capable of taking 4K video having 3840 x 2160 resolution with 30 frames per second.Both devices got some video features as claimed by the company such as Video zoom, Optical image stabilization, Continuous autofocus, Video light, Lumia Rich Recording with four microphones.
Battery
The major flagships this year like Samsung Note5 and iPhone 6s and 6s plus came out with non removable back and non-expandable storage. Microsoft wanted to win in this department by allowing their devices to replace the battery and expand the storage. Now one can expand both devices memory up to 200 GB using Micro SD card and replace the battery if needed. Thumbs up Microsoft!
Lumia 950 XL got a bigger battery 3340mAh than 950 which is 3000mAh. Even though these batteries would give some better performance, one can expect that XL would last longer between the two because of its bigger capacity. Since 950 has to handle more pixels on the screen, it might drain more quickly than XL.
Both devices are wireless charging and fast charging enabled and embedded with some cool sensors such as Sensors: Ambient light sensor, Accelerometer, Proximity sensor, Barometer, Gyroscope, Magnetometer, SensorCore for delivering better experience.
Unique features
Even though this year Lumia phones came out with some great hardware specs, these devices got some unique features too. With Lumia 950 and 950 XL, the company tries to attract enterprise customers with it's new features.
Windows Continuum: This feature allows you to connect your device to a Microsoft Display Dock there by allowing you to use the device on monitor. This is very nice feature for giving presentations and productive stuff with the device. To do so, you need to buy the Dock on it's store. More info on this dock here.

Windows Hello beta:This is a new security feature added by Microsoft. One can authenticate by waking up the device and looking directly at the screen. The infra-red camera technology authenticates the person.
Conclusion
Even though these devices aren't released in market yet, one can say that both the Lumia devices came out this year with some great hardware specs and software features. If you are a windows fan, depending on the price, you can definitely give a try. With it's new camera and social features and unique features like Windows Continuum and Hello beta, it is trying to take it's stand on enterprise market as well.
If you like these devices, you can take at look and order when there are available: Lumia 950 here and Lumia 950 XL here.
What do you think of these two? Do let us know in comments.