5 Best Online File Conversion Tools To Convert Files From One Format To Another
Converting files from one format to another can be a really tiring procedure. With dozens of audio, video, document and media formats popping up every other day – downloading a file converter for each one of them is certainly not recommended.
Following is a list of some of the best free online file converting tools which let's you convert audio, video, documents, images and zipped files from one format to another. All of these file converters are free to use, absolutely no strings attached.
Zamzar – Convert Audio, Video, Image, Document and Zipped Archives Online
Zamzar is certainly one of the best websites to convert files into a whole lot of other compatible formats. Usually, users find it difficult to get converters that can convert files with big sizes; this problem does not persist with Zamzar since you can convert files of up to 100 MB size.
Go to zamzar.com, hit the "Choose File" button and select the file from your computer which you want to convert. Next, select the output format and enter your email address in the "Email" text field. Then click the "Convert" button, the service will start the conversion process and send the converted file to your email address.
Zamzar let's you convert a maximum of 5 files in a single session. However, you may use the website through out the day and convert as many files as you want. User's who want to convert files in bulk, can sign up for a free account here (supports conversion of up to 20 files for a single session).
Zamzar also supports converting files from a publicly accessible URL, all you have to do is click the "URL" link in Zamzar's file convert box and paste the URL of the file you want to convert. Should you want to convert YouTube videos to your preferred video format and download the converted file to your computer, have a look at Zamzar's YouTube converter and downloader page.
The free version if Zamzar let's you upload files that have a maximum file size of 100MB, you may want to sign up for a free account to upload files of high size ( up to 1 GB).
In addition to converting Documents, Images, Audio, Video & Archive formats, YouConvertit also helps you convert online videos from YouTube, Vimeo, DailyMotion, etc. Along with this you can also share the converted files on social networking sites and convert and save files of up to 200 MB.
If you register for a free account with YouConvertIt, you will get added benefits e.g 200 MB of file storage, converting files in bulk and bigger file conversions. Registered users will have more bandwidth priority than unregistered users along with more expiry time for file downloads.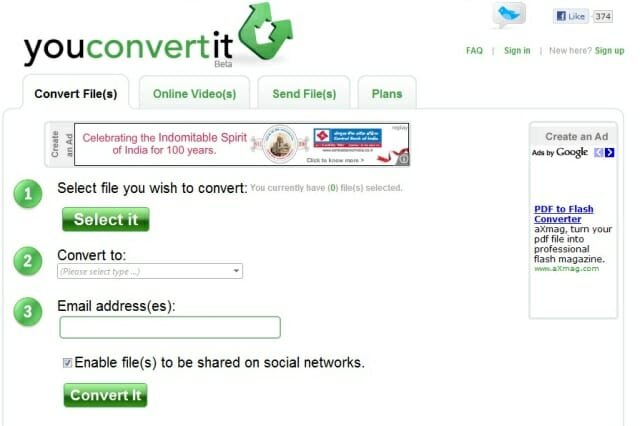 Using Youconvertit is fairly simple, go to the website and select the file using the "Select it" button. Next, choose the output format and enter your email address in the "Email" text field. Hit the "Convert" button and the site will confirm whether you want to sign up and store the converted file to a free YouSendIt account. If you don't want to create an account, choose "Skip".
The converted file will be sent to your email address, once the conversion process is over. The video conversion page of Youconvertit works much the same way as Zamzar, enter the Video URL, click "Run" and download the converted video file to your computer. You can use the service all day long, there are no limitations as such.
It is another one-of-a-kind converting tool, which not only converts normal files but also Office documents like spreadsheets, word documents, etc. The file size that can be converted is 150 mb. The converted files can either be sent to your friends' e-mails or to your own e-mail address, through the converter itself.
Steps involved in converting files using Convert.Files –
1. Open Convert.Files website and select Choose File to browse for the file you want to convert or you can also browse an online file by pasting the URL in the 'Download it from' box.
2. Choose the 'Input' and 'Output' format, which is essential to see what file format it being converted into what kind of file format.
3. Select the 'Convert' button and the uploading and conversion process shall begin.
4. Now, once the file is converted a download link shall pop-up. You should not perform the traditional left-click on the link, instead right click on the same and then save or download the converted file.
Of all the conversion files mentioned above, this one is the most simplest. Plus it converts all types of files like the common document, audio, video and image file types. Besides this there is also the comfort of converting online video files from YouTube, Vimeo, Metacafe, blip.tv and many more.
Steps involved in using Free File Converter –
1. Open Free File Converter, select the file to be converted and then 'Choose' the output format.
2. Once done, click on 'Convert'.
3.After that, it will pop-up the download link and wala! Your file is converted.
Wasn't that really simple?
Now this one is no ordinary online converter. It not only helps convert the regular documents, images, audio and video files, but also converts compressed files. Along with this, the exciting part is that you can even send these converted files to mobile phone devices and also convert videos from online video sharing websites such as YouTube and take screenshot of web pages.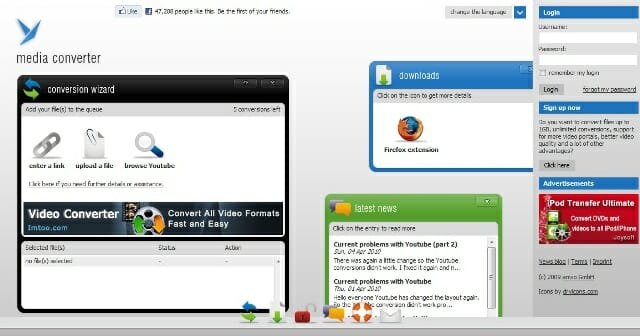 Steps involved in using MediaConvert:
1. Open Media-convert and choose the 'File Source' which is either on your PC or online.
2. This tool will automatically show the input file, so there is not manual selection of the file-type. But, quite obviously you need to select the output file-type through browsing the 'Output Options'.
3. There also advanced setting options, which allow you to rename, encrypt, split the file or share it with a friend online.
4. Selecting 'OK' will run the conversion.
5. As usual, once the conversion is done the tool will throw-up a download link which gives you the converted file.
It must however, be noted that the service of this converted is a little slower than others.
Do you prefer using a web based file converter for converting documents, audios, videos and other file formats? Which tool do you use and recommend ? Share your ideas in the comments below.
Related:
1. List of video to audio converter tools and services
2. Convert Office documents online with ZohoViewer
3. Convert PDF documents to PowerPoint presentations