Samsung Galaxy S10 Lite Review: Features, Specifications, Price In India
Samsung recently announced its next smartphone called Samsung Galaxy S10 Lite, which will be available for Indian consumers soon. If you are willing to buy a new feature-rich smartphone for daily work, you should check out this new mobile before making a final decision. Spoiler alert! It comes with some impressive hardware so that users can do whatever they want. However, it is more like a camera-focused smartphone rather than anything else.
Samsung Galaxy S10 Lite Features And Specifications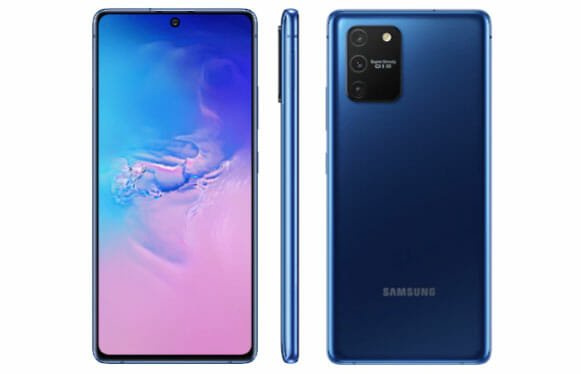 Design And Build Quality: Samsung doesn't compromise with the build quality of their high-end mobiles, and S10 Lite is not an exception. You can find an excellent finish with three different colour schemes – Prism Blue, Prism Black, and Prism White. The 'blue' edition looks quite good in real life, whereas the other two variants are equally excellent in hand.
Talking about the dimension of this smartphone it is 162.5 x 75.6 x 8.1 mm in H x W x D. Even after being a massive smartphone with a big battery; it doesn't weigh a lot as the weights of this mobile is 186gm. The back panel is quite glossy, and that might create a problem for you because it can keep fingerprint mark. Other than that, you won't find any issue with this smartphone in terms of look and feel.
Display: Samsung is all about graphics and camera. This smartphone carries the same methodology as the manufacturer. It sports a 6.7-inch FullHD+ panel to provide a crisp picture in every situation. The display is multifunctional as the fingerprint scanner is also included under the display. In other words, it has an in-display fingerprint scanner.
Regarding the resolution, you can find 2400 x 1080 pixels of resolution with 394ppi of pixel density. The Super AMOLED display is bright (without any doubt) and you should not face any problem using it in broad daylight.
Performance: Samsung Galaxy S10 Lite comes with 2.8Ghz Octa-core Snapdragon 855 chipset, and undoubtedly, that is fast enough to run multiple apps simultaneously. Many people face lagging issues after a couple of days of use, but that should be very common in this smartphone.
On the other hand, you can find 8GB RAM and 128GB of storage on this phone. No matter whether you play PUBG or simple Sudoku game on your mobile, you won't be in trouble in any way. Regarding playing high-end games, you can do that in high configuration since it includes Adreno 640 GPU.
Camera: As mentioned earlier, Galaxy S10 Lite is more like a camera-focused smartphone; you can see numerous modes for the front as well as the back camera. Let's start with the rear camera as you can see three-camera setup in this smartphone. There is f/2.20-2.4 48 MP primary camera alongside 5 MP macro camera, and 12 MP wide-angle camera included in this smartphone. The primary camera has tons of features, and the most important thing is the Super Steady OIS, which is slightly different from standard OIS and much better than that. It includes several modes such as Live Video Focus, Hyper lapse, Slow Motion, Night Mode, etc.
On the front side, you can find f/2.2 32 MP camera, which can do several jobs effortlessly. The picture quality of the selfie camera is much better than some other old smartphones.
Regarding the video recording, you can record 240fps FHD and 120fos FHD video with the rear camera. On the other hand, it can record 60fps video at 4K.
Battery: Samsung has included a 4500mAh battery in this 'lite' version of the smartphone. Meaning to mention that it can provide a good battery backup if you do not spend a vast amount of time playing high-end games and watching online videos. If you do regular jobs like a little bit of WhatsApp, Facebook, internet browsing, Instagram, etc., it can last up to two days, according to Samsung.
The best thing about the battery part of this smartphone is that you can find a 25-watt charger included in the box. An 18-watt charger takes around one hour to charge 4000mAh smartphone after a couple of weeks of use. Considering that in mind, you can put your phone on charge for a couple of minutes, and it can last the whole day without any issue.
Price: Although the exact launch date is not announced until now, you can pre-order it on Flipkart for Rs. 39,999.
Competition: the nearest competition of this smartphone is going to be with Google Pixel 3a XL. Although that smartphone is a bit old, people prefer Pixel for the camera. As Samsung Galaxy S10 Lite is a camera oriented smartphone, you should take a look at this competition for sure.