Top 10 Professional video editor apps for Android April 2018
The camera on Android smartphones these days are a lot better and some of them are even giving tough competition to professional cameras. Most smartphones come with 2K or even 4K video recording with HDR support and it makes it easier for photographers who wants something portable for their video recording and video editor needs.
While people previously used powerful computers to edit their videos, smartphones these days are powerful enough to be able to do that too. So, here are some of the best professional video editor apps for Android which helps you to add effects to your videos, edit and crop them to your liking.
Top 10 Professional video editor apps for Android April 2018
Adobe Premiere Clip is one of the most downloaded professional video editor apps for Android and it is free to use with a lot of features. One of the best features of the app is that it automatically creates videos with your favourite transition animations, effects and music if you select a bunch of photos you want to use.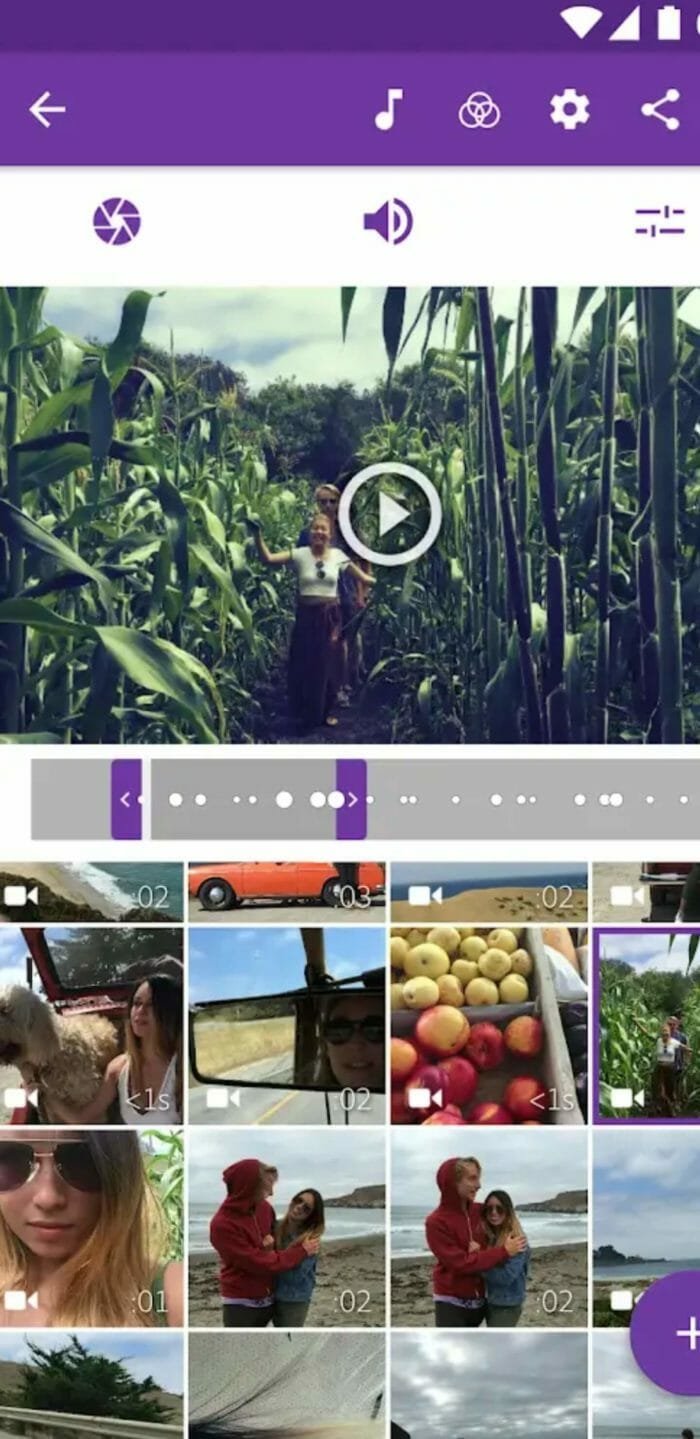 It also has all the functionalities that you expect from a video editor app like cutting the video and changing the timing, trimming the unwanted parts and so on. You can also select from a ton of preset effects to apply to your videos. The app also allows you to directly share your edited videos to any social media platform and it doesn't have any ads so you could edit your videos without any interruptions.
Power Director Video Editor app
Power Director is probably the only video editor app with most number of special effects like slow motion, reverse video, background change and so on. You can create and edit 4K videos with this app and it also allows you to add voiceovers to your videos and effects like the ones you seen in action movies using a chroma key.
You May Like: Top 10 Must Have Android Apps For 2018
The chroma effect allows you to apply blue or green screen texture to your videos which you could later use to change the background effects or remove the background completely from your videos. The app also allows you to create video and even picture collages and it has various video editing options like cropping, rotating, trimming and even altering the timeline by adding new clips and interchanging the existing ones.
If you are looking for a video editor app to add some special effects and transition animations to your videos on the go, then Viva Video editor is the perfect choice for that. It is a quick solution where you can just apply an effect from hundreds of preset filters on a single click to your videos.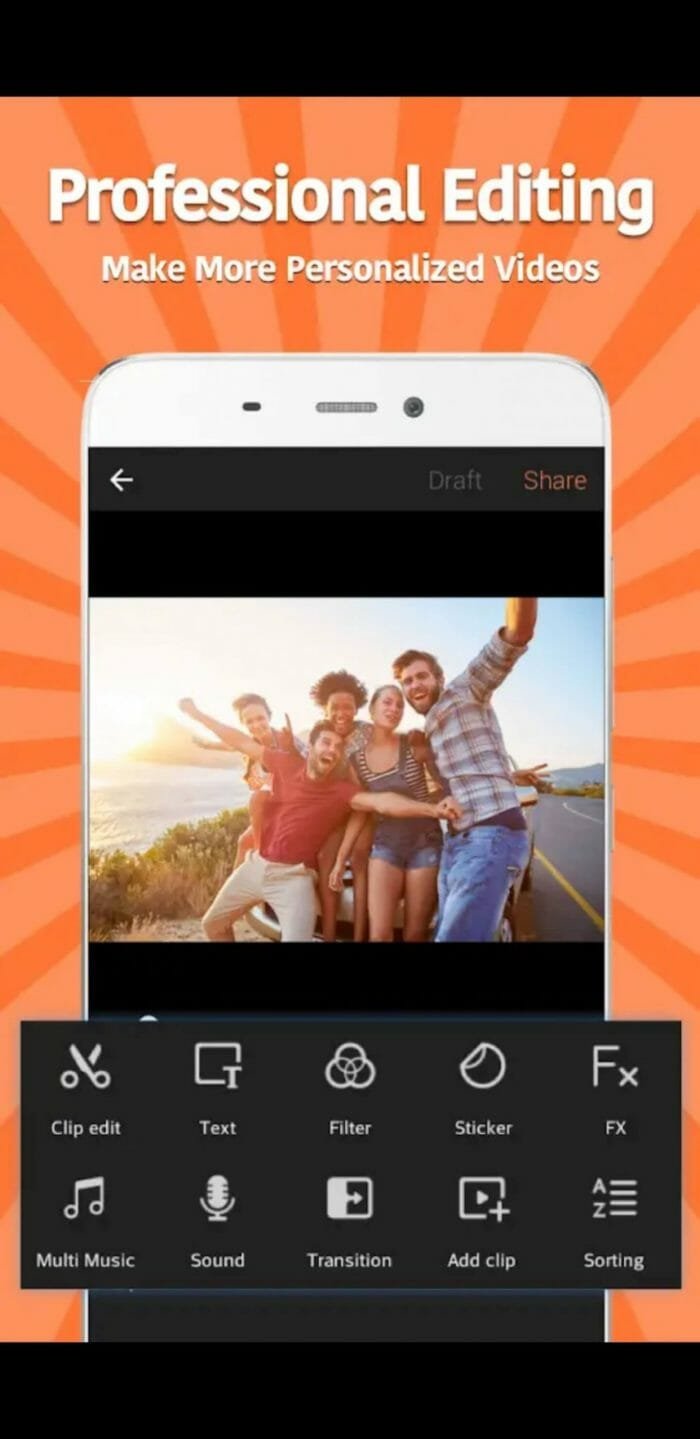 The app is especially ideal for those who share a lot of videos to social media platforms and wants to impress their followers with unique video filters and effects. You can also add stickers and animated emojis to your videos and while the free version of the app comes with limitations like time limit and watermark on the videos, you can purchase the pro version to remove these.
Quik is a video editor app which has a lot of predefined video editing styles and soundtracks to add to the videos in its library. You have to just select the photos and video clips you want to include in your video and the app will put them together with the style you select and the music you want to play in the background. Quik allows the users to add upto 50 photos to the video.
You May Like: How to recover deleted Whatsapp photo or video from Android or iOS
The app allows the users to save and export the videos in both 720p and 1080p formats and the users can also directly share the videos to their favourite social media sites directly from the app after editing. The interface of the app is designed in such a way that even novices can easily get through it without having to spend a unreasonable amount of time just to create and edit a simple video.
Funimate is actually an app that was created initially for Musically users to add special video effects to their short clips but was later developed into a full blown standalone video editor app. It is now one of the most downloaded video editor apps in the Google Play Store with over 5 million downloads and with a good rating of 4.5 from over 400,000 users.
You can add upto 20 cool visual effects to your videos with Funimate and it also comes with features to add text, smileys and stickers to your videos in real time and share it with your followers in Musically and other platforms. It is also very easy to collaborate with other people and to privately share videos using Funimate which makes it something more than a normal video editing app.
You May Like: How to get the screenshot editing tool in Android P on Any Android phone
Kine Master is a trial based video editing app which requires you to pay a monthly subscription of $4.99 to keep using all the features of the app for lifetime. But this app is actually worth your money as it comes with a ton of basic and advanced features suitable for all kinds of users from beginners to professionals. The app has options to edit your videos like you images by giving you control over Hue, Saturation and other aspects.
The best feature of the app is the project assistant where the app will guide you through the step by step process of creating a video right from the initial steps of selecting the images and adding the video effects till the final touch of  adding the background music and exporting and sharing the video to your choice of cloud platform or social media site.
You May Like: Top 5 best offline shooting games for Android 2018
Magisto Video Editor is an Artificial Intelligence based video editor where the app makes use of the latest AI algorithms to automatically select the best possible elements and aspects from the video clips and photos you upload and create a video for you with minimal effort from your side. This app is best for people who do not have much time in their hand or for those who don't actually want to sit and edit a video.
You May Like: Top 10 new features and updates coming to Android P
You just have to select what images and clips to include in your video, your favourite background music and text information if any and Magisto will take care of the rest for you and will deliver you the best possible video output by applying a combination of effects. While this might be a quick and an effective solution for people with little to no video editing experience, professionals who want greater editing control might not find Magisto editor an ideal choice.
Filmora Go, as the name suggests is a video editing app which could used on the Go with less efforts. But that doesn't mean it lacks some features, because it is one of the fullu packed video editing apps out there with basic features editing, trimming and cropping to advanced ones like layered effects, transition animations and background music inclusion to your videos.
It involves a simple and successful formula to edit your videos on the go, where you have to select the clips, images, song and then add effects to create a video. It has effects slow mo, reverse video and it even exports videos in different aspect ratios like 1:1 and 16:9 for Instagram and YouTube. While most necessary features are available for free from within the app, you can also make an in-app purchase to unlock additional features and effects.
You May Like: 5 best offline iPhone games for March 2018
If you own a powerful smartphone and you want to professional quality editing on your device just like you would do on a desktop computer, then Action Director might be one of the best possible options available for download in the Google Play Store. It supports recording and editing of Ultra HD 4K videos directly from the app.
The app allows you to easily create and editing slow motion and fast paced videos just like in the action movies with the help of a simple slider using which you can increase or decrease the speed of the clips in certain parts of your video. It is also one of the very few video editing apps that supports 4K video recording and editing, so if you are someone who frequently uploads videos to social media in high quality, then you might find the Action Director app interesting.
Movie maker is a video editing app which was specifically designed for editing Instagram and YouTube videos but it is certainly not limited to only those. It has all the basic features one would expect from a video editing app like cut, trim, crop and reorder clips and the app even allows you to set focal points on your videos which you would want to play a little longer with additional effects and text details.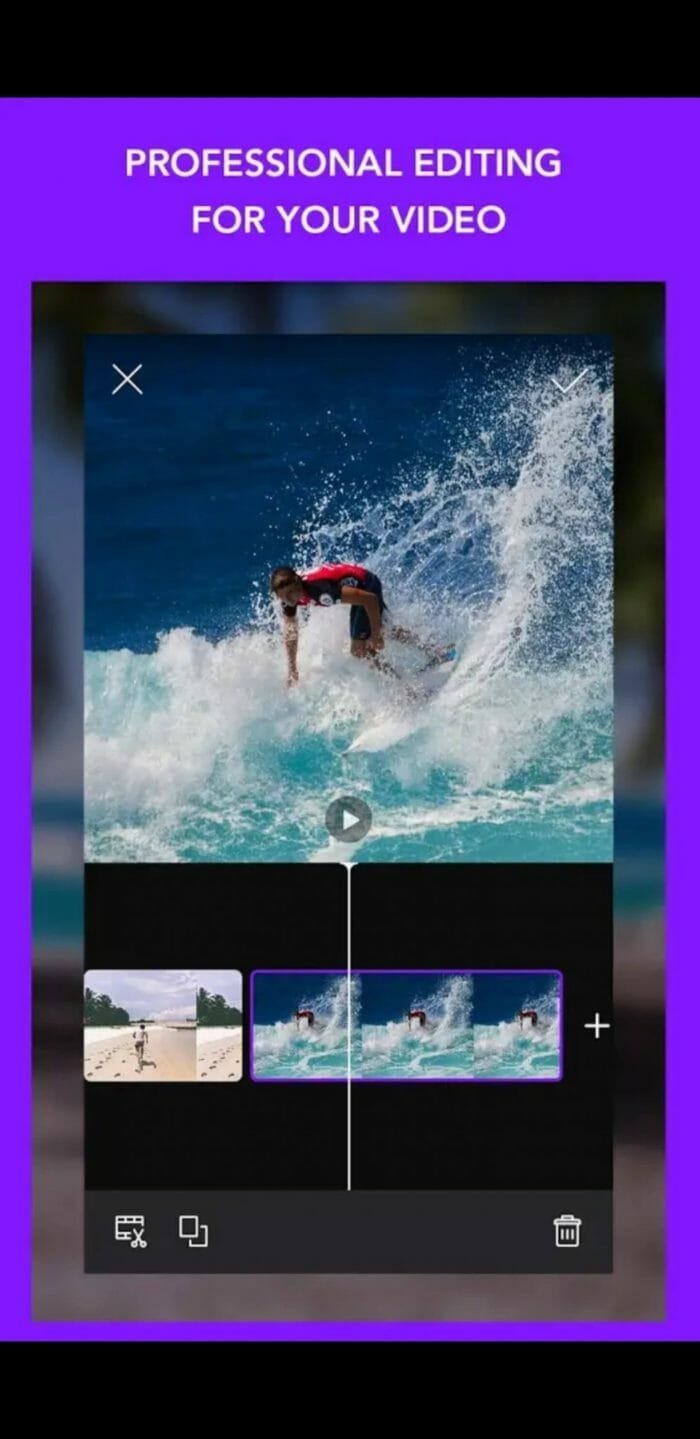 While the app is completely free to use with no in-app purchases or pro version involved, it comes with a lot of intrusive ads which might interrupt you in your video editing process. Even though the app is more suitable for editing short videos, it definitely has some professional features to and that is what makes it one of the best video editing apps in the Google Play Store with a high user rating of 4.5 from over 155,000 users.