All You Need to Know About WhatsApp Privacy and Security
WhatsApp is having more than 700 million users across the globe. Everyone can be a WhatsApp user without paying a cent for a whole year. Although, WhatsApp charges after one year, yet, that is minimum. Anyway, if you are using WhatsApp, are you aware of WhatsApp privacy and security?
Do you know what kind of data is being lifted by WhatsApp and sent to the server? Do you know whether WhatsApp have the privilege to sell your data or use your personal information commercially? No? Okey. Not a big deal. In this article, I am going to cover some important things so that you can know more about WhatsApp privacy and security.
You would be able to make your WhatsApp profile more secure by using these following tips and tricks.
Selling User Information by WhatsApp
According to the Legal Terms of WhatsApp, they do not sell any confidential user information such as mobile number to any third party as long as it is not necessary. On the other hand, they may use users' raw data i.e. exit page, usage statistics, clicks etc. in order to improve the user experience. Therefore, you are safe as long as you have not done any offence.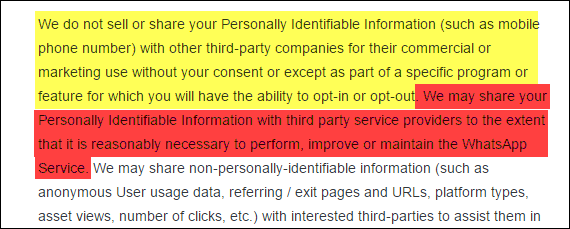 Now, here are some tricks and tips to make your WhatsApp profile more secure. These subsequent guides will let you optimize your account if you are using it on Android device (mainly). However, this is possible to use some of the tricks on any other platforms as well.
Password Protect WhatsApp account
By default, WhatsApp do not have any security layer. That means, your WhatsApp account is open and anybody, who has your phone access, has your WhatsApp account access. That is why you should password protect your WhatsApp account using third party software. At the same time, you can use more other methods to lock down WhatsApp on your mobile.
For instance, you can use parental control, which is quite trustworthy. There are several parental control applications available for Android. In fact, this is also possible to have parental control without any third party software. There is an app called Android Parental Control, which works pretty good. If you want to avoid parental control, you can get an app locker. Smartapplock Protector and more others work well. In fact, Android users can download WhatsApp Lock, which will lock down only WhatsApp with password, pin lock etc.
Now, it was the first and very essential step to protect WhatsApp from unwanted people. Apart from that, you must have to take care of internal privacy.
WhatsApp Privacy Settings for High Protection
Although, WhatsApp provides some privacy settings, yet, not all of them are enabled, by default. Hence, you must have to look at them and set them up as per your wish.
The first thing is Who Can See My Personal Information settings. You can set it by navigating through Settings >> Account >> Privacy. Here, you will get some settings for manage the following things,
Last Seen
Profile Photo
Status
Block Contact
Read Receipts
You can enable or disable them as per your requirements. For instance, if you do not want to show the recipients your reading status, simply disable the Read Receipts.
WhatsApp Precautions
If you are going to use WhatsApp in near future, you may need to know that your account may be banned temporarily or permanently if you use any third party WhatsApp client. WhatsApp did it once and they can do it again. Therefore, it is always beneficial for you to avoid various WhatsApp clients.
WhatsApp require your mobile number to create the account. If you want to use WhatsApp for a little span of time for testing purpose, you may opt for different services what assist users to use WhatsApp anonymously without using original mobile number and contact details. These services seem good for them, who want to use it to make a prank or test WhatsApp.
WhatsApp recently released WhatsApp for Web to use WhatsApp on the browser. If you often use it, make sure you are using the correct website since there are many phishing sites around you.
WhatsApp doesn't provide end-to-end encryption. Although, it may not cause any issue for regular messaging but it can be a cause for major data deprivation. There are more other reasons, what make WhatsApp poor compared with other instant messaging apps and services. You can check this article to get more secure communication apps than WhatsApp.
Final Word
Obviously, by reading this article, you cannot make your WhatsApp profile more secure. You have to act to get things done. At the same time, this is very important to know more about various security flaws of WhatsApp.