Writeily Pro – Neat and Clean Note Taking App for Android
Do you often forget your important tasks? Do you use Android mobile? If YES, here is an awesome solution for you that will help you to take notes instantly and let you remember all the things.
You know that Android is a great platform that has thousands of apps, games as well as many brilliant features. The latest version of Android has even more features. However, most of the Android user often feel a lack of a good text editor or a note-taking app. Although, Memo is a popular widget, which is available in most of the Samsung mobiles and some other mobiles but this does not fulfil most of our demands. This is where third party note-taking apps come in.
Obviously, Android has many free and paid note-taking apps. You can download Evernote, Google Keep, Any.Do, OneNote and many more. However, today I am going to introduce yet another awesome and free note-taking app that is available for Android.
Introducing Writeily Pro. This is a brand new note-taking app for Android. Although, the name has a suffix called PRO but this is absolutely free. You can download the free version of Writeily Pro. On the other hand, if you want to donate something to the developers, you can purchase the premium version. However, there is no difference in terms of features in both versions.
User Interface and Features of Writeily Pro
The user interface is really awesome. Although, Writeily Pro has been developed for Android 4.1 and later versions but the visual design is mainly for Android 5.0 or Android Lollipop. This application is very small. It is just 1.3 MB. However, the user interface has no clutter. In fact, Writeily Pro has no useless features. All the included features are much useful for a regular note-taking app user.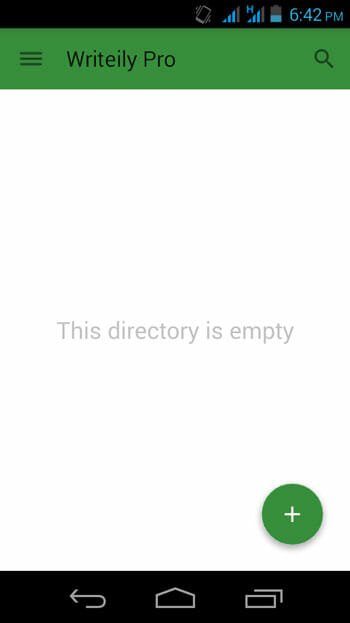 On the opening, you can find a plus sign that helps users to create new note or folder.
Unlike most of the normal note-taking apps for Android, Writeily Pro offers folder to separate your notes. This is an additional and very useful feature since sometime we spend a lot of time finding the exact note. Therefore, you can select any one option to create note or a folder. You can also create a sub-folder as well. The text editor looks pretty good and destruction free. You will get only two empty place to write down everything.
On the first box, you can enter a title and on the second box, you can write your entire note or anything else. That is all.
Writeily Pro has another great feature. You can lock down the Writeily Pro application without another third party app. it comes with PIN lock to prevent others from checking your notes. To set up PIN lock, just tap on the Menu button and go to Settings.
After that, tick on PIN lock and set a PIN.
That's all! Now, wherever you will try to open Writeily Pro app, you will have to enter the PIN.
There are some other tiny yet very useful features included in Writeily Pro app for Android. Just download and start using it to learn more.