Everything You Should Know About Firefox OS 2.5 Dev Preview
If you are familiar with Chrome OS, then you might already have an idea how a browser can turn into an operating system. Google introduced Chromebooks running Chrome OS inside delivering a fresh experience while using it. Being light and secure, Chrome OS came with lot of options such as Google Drive for cloud integration, App store to quickly installing and using tons of apps in your system, ability to sync your information among all kinds of devices you use etc.
Another renowned browser in the market Firefox by Mozilla is trying to take similar step now, but with a witty start. Keeping the intention of releasing Firefox OS in the market, the company has released an experimental preview early recently of the OS – Firefox OS 2.5 developer preview.  Why did I say a witty start? Well, there is a reason.
To make it available for developers and all interested people to try it out easily, the OS preview came out as a system launcher. Yes, you read it right. Avoiding the pain of flashing your device and installing OS to actually try it on your device, all you have to do is download Firefox OS system launcher while using your Android OS on your device.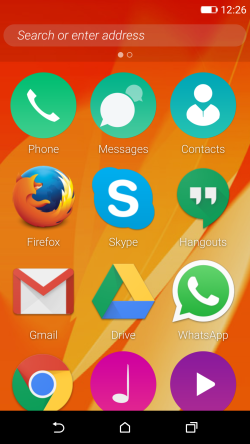 This preview is an app which will let you experience Firefox OS like an alternate home screen on your Android device without actually installing it. After installing the APK, your home screen would change to Firefox OS with some stock firefox apps such as browser, calendar on the screen. This will let you experience the functionalities and features of the OS.
Unique Features by Firefox OS
Add-Ons
This is an obvious feature from a browser-turning-into-OS. Firefox OS lets you install Add-Ons into your mobile device as you can do with your desktop browser. If the OS becomes popular, there would be a scope for developers creating more add-ons supporting Firefox OS in the future. You can just download and install add-ons pretty easily
You can access all your add-ons from settings -> Add-ons. This section will display Addons you installed in your device. You can select a particular add on to find more information about it. You can manage, enable or disable, edit permissions, and delete if you want to.
Private Browsing
Firefox OS offers new private browsing feature which allow you to browse anonymously and tracking features allows to control your browsing activity across many sites on the web.


Pin the Web
This feature lets you to pin any website or web page to your home screen. This feature comes handy when you want to use it in future again or save it for later if you have no time now. No need to open browser and search for history.
How to Download Firefox OS 2.5 Developer Preview
Here are few things to note before using Firefox OS:
Firefox OS avoids bricking of your device by using Gaia(User Interface) layer of Firefox OS. This lets you use the OS without loosing access to your Android Apps.The best thing is, if you done using it, you can uninstall it like any other App from your mobile.
This is an experimental App which is still in developing. So do not expect it to be bug- free. You may find several issues while using it
As an Operating System, Firefox OS has it's own task manger, utility tray, settings, navigation functionalities, stock apps and more. Since you are using it now on top of your Android OS, you may face some differences.
Example
In Android, the back button used for navigation purpose and in Firefox OS it does not.
Also there are some functionality conflicts such as Firefox OS offers lock screen which will be turned off by default. If you want to turn it on, you may end up having two lock screens for your device. So you might avoid that.
Mozilla allows you to report a bug if you are a developer and you can participate in Firefox OS participation HUB to receive updates about the OS
As of now, the OS only work on ARM-based devices. x86 devices don't support it, yet.
To get started, all you need to do is download and install Mozilla's APK from your Android device. To avoid unnecessary warnings, before installing you have to allow your device to install apps from unknown sources. To do so, navigate to Settings -> Security -> and turn on the option called "Unknown sources".
What do you think of this OS? Do let us know in comments!