Samsung Galaxy Note 5 Vs Sony Xperia Z5 Premium: A Comparison
Galaxy Note 5 – the flagship killer this year from Samsung already made it's place in best smart phones this year. On the Other hand, Xperia Z5 Premium – The pixel beast with awesome specs along made by Sony. Both have great plus points and their weaknesses and came out with best features from respective companies this year. Not only both are high in terms of specs, but also expensive. So, not reachable for many people. But if price is okay with you and you wanna buy one, or just curious to know which one would be better between the two, then this post will help you.
Lets get started then.
Specs on paper for you to get a quick look: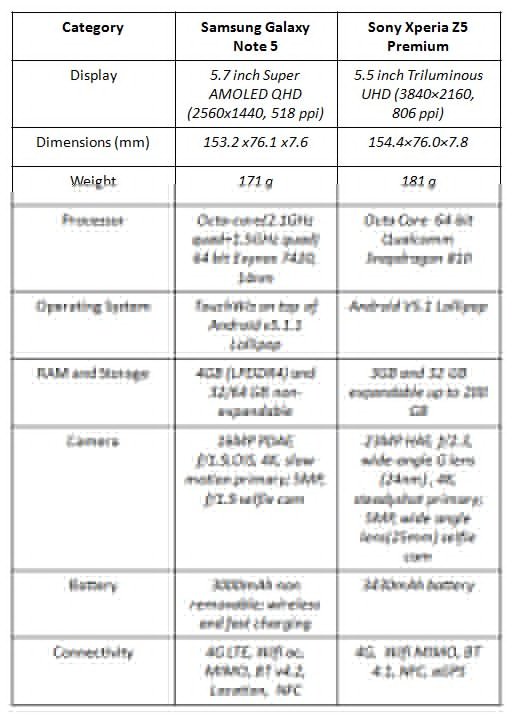 Display and Design
Design
Samsung Galaxy Note 5 has a shiny premium looking body with metallic finish and glassy back having curved edges on four sides. Due to this, people have had experienced slipping issues and fingerprints on the back side especially. But this wouldn't be a reason not to buy this phone as this problem can be easily overcome by using a skin or a case. Coming to Xperia Z5, this device is having a typical Xperia design with premium looks and made up of frosted glass and metal.
Both devices look great, feel premium giving rich look while holding them.
Display
Galaxy Note 5 features a 5.7 inch super AMOLED display (2560×1440 resolution and pixel density of 518 ppi). This display comes with Corning Gorilla Glass protection to avoid screen damage. Coming to Xperia Z5 premium, it has a 5.5 inch Triluminous UHD display (3840×2160 resolution and pixel density of 806 ppi). This display features X-reality for mobile by Sony and Dynamic Contrast Enhancer.
Clearly, Sony Xperia Z5 is a display beast and crystal clear as hell. Wait, since we are comparing it with Note 5, the conclusion is not straight forward because in real time, you wouldn't be able to tell the difference if you bring these two devices come closer. Of course, if you have 4K content and zoom a picture in both devices, you may notice clarity in Z5 Premium. The reason is these two are small mobile screens. Another point to be noted here is, Xperia Z5 premium uses 4K display while displaying 4K content, otherwise it limits the quality to just 1080p to save its battery life. You can read my thoughts on Xperia Z5 Premium display here.
So, both are having great displays with amazing quality with vivid color production, brightness and great viewing angles.
Dimensions
Sony Xperia Z5 Premium measurements are 154.4 x 76.0 x 7.8 mm and weighs 181 grams in hand. On the other hand, Note 5 measurements are 153.2 x 76.1 x 7.6 mm and weighs 171 grams.
You wouldn't find significant differences in dimensions except the length since Note 5 has a bigger screen and weighs less compared to Xperia Z5 Premium.
Under the Hood
Sony Xperia Z5 has a Octa Core 64 bit Qualcomm 810 Soc paired with Adreno 430 GPU. It has 3GB of RAM and 32 GB storage which can be expandable up to 200 GB using SD Card. On the other hand, Samsung Galaxy Note 5 has an octa core 64 bit Exynos 7420 chip, 4GB RAM with two storage variants: 32 GB and 64 GB.
Even though the chip sets are different, their power is nearly same in both the devices. Even though you might feel that Note 5 has more RAM than Xperia Z5 premium, it's had to tell the difference in real time while using both devices unless you hit the maximum usage limit of CPU which rarely happens. So both devices run seamlessly, handle multi tasking, high end gaming, HD video playback without a single issue.
Storage could be a down side of Note 5 as it cannot be expandable. But you can do that on Xperia Z5 Premium. So, it would be a plus point for that device.
Coming to software section, both devices run Android Lollipop v5.1, even though Samsung has it's own customization, TouchWiz on top of it. Both devices give nice software experience in their own ways.
Camera Department
Samsung Galaxy Note 5 has 16MP Phase Detect Auto Focus Camera with f/1.9 aperture on the back including features such as Optical Image Stabilization, Slow motion video, 4K video recording etc; 5MP shooter with f/1.9 aperture on the front. Coming to Sony, it has a 23MP Hybrid Auto focus Wide angle G lens camera (24nm) having Sony Exmor RS mobile sensor with f/2.3 aperture on the back including features such as 4K, steadyshot; and 5MP wide angle lens selfie camera on the front.
On paper, Xperia Z5 Premium has more pixels than Samsung Note 5. But since not only pixels determine the quality of the camera, Samsung has OIS feature to process your images. Sony camera also has dedicated Exmor RS sensor to amplify your camera experience. So, as a whole, both devices have great cameras giving your crisply shots with great quality, even on low light environments.
Battery Life
Note 5 has a 3000 mAh battery and Xperia Z5 has a 3430mAh battery.
On paper Xperia Z5 premium seems to have bigger battery than Note 5. Even though Z5 Premium has a 4K display, since you don't use it all the time, the device limits your display to 1080p to save battery. Note 5 also gives some nice battery life for you.
Conclusion
The question of which one is better is really hard to answer. Both devices are high end flagships and deliver top notch performance without any issue. So, the decision of buying one depends on your interest. If you like Samsung environment and a phone with stylus so that you would be able to do some drawing stuff, and other cool things that note 5 offers, then you can choose Note 5. Or, if you are a fan of Crispier display, Sony cameras and curious about how a mobile with 4K display would work , you can choose Xperia Z5 Premium. Both are above 50k Devices(check out Z5 Premium on Flipkart, and Note 5 on Amazon).