Top 5 Most Popular Mobiles Launched in 2015
2015 was a complete tech based year since loads of things launched and plenty of things missed by various companies. We have seen more sufficient self-driving car, Holo Lens, better 3D printing alongside tons of mobiles of different companies. If you are a mobile addicted person and often try different mobiles to check what is new and what is old-fashioned, here is a good news for you. We have created a list of top 5 most popular mobiles those are launched in 2015.
There are so many things to check to put a mobile on this list. On the other hand, different people require different things with their mobile. But, all of these enlisted mobiles will be able to fulfill all the demands of all kind of people including mobile photographers, office employees etc.
Therefore, if you would like to check out these top 5 most popular mobiles, here you go. Do follow this list and find out the reason of their popularity.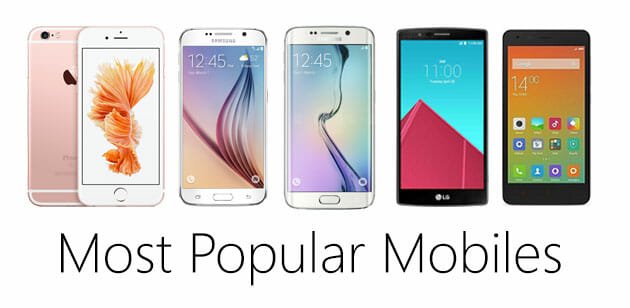 Apple iPhone 6S
Although, Apple launched two different iPhone i.e. iPhone 6S and 6S Plus, yet, most of the people opted for Apple iPhone 6S. Hence, Apple's market share has increased a lot due to selling millions of mobiles within a short period of time. Obviously, this is a good sign for the company but the other side is they failed to gain the popularity for iPhone 6S Plus. Anyway, iPhone 6S comes with 4.7-inch LED backlit IPS LCD display with 16M color depth and 326PPI pixel density. On the other hand, Apple A9 chipset makes the smartphone smarter and this is another reason, why people bought this beast. Apart from that, Apple improved the camera unit, which is now 13MP on the back and 5MP in the front. Although, it costs around $649 but, it has only 2GB RAM. But, the overall popularity of the brand and the configuration/features of the mobile have made it the number 1.
Samsung Galaxy S6
Although, Samsung and Apple are the nearest competitor in mobile market, but still iPhone 6S is the most popular mobiles as they have increased their sale using that. On the other hand, Samsung Galaxy S6 should be the number 2 because of having such a great look as well as hardware. Samsung's Galaxy S series has been great and this time, they have launched Samsung Galaxy S6 with a lot more enhancements in terms of hardware as well as software. It comes with Corning Gorilla Glass 4 on the both sides. The most interesting thing is it has Samsung Pay, what Samsung introduced in 2015. Being an early launched mobile of 2015, it has been gained a huge success within few weeks. However, you will get 5.1-inch Super AMOLED capacitive touchscreen along with 3GB RAM, 16MP rear camera, 5MP front facing camera, Exynos 7420 chipset, quad-core processor, 128GB internal storage and more others.
Read More: Sony Xperia Z5 VS Samsung Galaxy S6: Detailed Comparison
Samsung Galaxy S6 Edge
Samsung launched two different mobiles called Galaxy S6 Edge and Edge+. Both of them are equally good and people have bought them without thinking twice. However, the Samsung Galaxy S6 Edge has gained more popularity because of the price and obviously the features. In terms of core hardware, you cannot find a lot of difference between Galaxy S6 and S6 Edge. But, there is a difference in prices. You will get same 5.1-inc Super AMOLED capacitive touchscreen, Corning Gorilla Glass 4, Exynos 7420 chipset, quad-core processor, Mali T760MP8, 3GB RAM, 128GB internal storage, 16MP rear camera, 5MP front facing camera and more others. As it comes with fingerprint sensor, people have opted for this one over others. The battery of this mobile is also good as it comes with non-removable Li-Ion 2600 mAh battery.
LG G4
LG G4 has different variants and the model numbers are completely different for different mobiles. But, the core one, which was launched in April 2015, is the best one amongst them. LG doesn't compromise with the tech specifications and this time, there is no exception. LG G4 comes with massive 5.5-inch IPS LCD display with corning Gorilla Glass 3 for protection. Along with that, you will get Qualcomm MSM8992 Snapdragon 808 motherboard, quad-core processor (1.44 GHz), Adreno 418, 3GB RAM, 16MP rear camera, 8MP front camera and so on. The body of this mobile looks really nice and there is no doubt that LG has put a lot of effort to make this better. It yields good and LG has successfully built a large mobile market in India.
Xiaomi Redmi 2
In 2015, Chinese mobile companies have gained a lot of popularity in India and expanded their market a lot. As a result, Xiaomi's Redmi 2 is on the list of most popular mobiles of 2015. Xiaomi has got this success even when they don't have any offline store. They have sold mobile through various eCommerce websites. Anyway, with Xiaomi Redmi 2, you will get 4.7-inch IPS LCD display, Corning Gorilla Glass 2, Qualcomm MSM8916 Snapdragon 410, quad-core processor, 2GB RAM, 8MP rear camera and more. Although, it doesn't have a high-tech specification, but still it is a successful mobile. This mobile is popular among budget mobile buyers.
There are more other mobiles like OnePlus 2, Samsung Galaxy S6 Edge+, iPhone 6S Plus etc. But, these aforementioned mobiles are most popular mobiles as they have helped the parent company to build a better business in this competitive world.