5 Best Weight Loss Apps You Need To Install
Over weight is what everyone is worried about these days. Taking care of health is becoming more and more as days are passing. We might be following different methods like workouts, maintaining diet and many more. But, how many of us are aware of the correct method to be followed to lose weight? There will be very and it is expected. But, do not worry even if you do not know what needs to be done for weight loss. If you are a smart phone user, whether it may be android, iPhone, Windows or any other, there are plenty of weight loss apps to help you achieving this goal.
5 Best Weight Loss Apps For Android, Windows and iPhone
There are many weight loss apps, but some of them are said to be best because of their features. They help you to lose weight by tracking you on daily basis. You just need to give input as what you are eating and they provide you the calculated data as charts. Some of them may also let you know what you need to take to reach your target of weight loss within given time. There are many such things and we will look at them individually.
Recommended: Top 3 Free Fitness Apps for iOS 8
MyFitnessPal
MyFitnessPal is said to be the smart app for weight loss. It tracks you on daily basis by asking you to enter what type of food you are eating. Based on the information you provided, it generates the charts. It also allows you to share your data with other applications and let your friends know the diet plan you are following. You can set the target that you want to achieve by end of the week or month and it suggests you the diet to follow to achieve that benchmark.
If you want to know the calories of anything, you scan the barcode of that and all details regarding fitness are displayed. You can even add friends to the list and share your progress with them. Because of these features, this is said to be one of the best weight loss apps for your smart mobile.
Noom Coach: Weight Loss Plan
Noom Coach helps you lose weight by motivating you and teaching you health habits that needs to be followed to keep you fit forever. It starts a diet plan every day and you just the day following that plan. You can log your meals and it gives the feedback of how it shows impact on your daily plan. In order to motivate you, Noomers from Noom Groups gives you high fives when you are succeeded in your diet plan and provide you tips when you miss out something.
There will be some mentors in those Noom groups who guide you by analyzing the data you provide and give you some tips to lose weight. Noom Coach app follows color coding like red, yellow and many more to let you know what to eat to achieve the goal of weight loss.
Lose It!
Lose It! gained the reputation as it is being used by millions of people all over the globe. If there are any health apps on your device and whatever you log in that apps are automatically in sync with Lose It! This provides you the feedback and allows you to keep track of your progress by providing you the graphical presentation. Based on that, you can plan your diet and even that can be suggested by this app.
It has a built-in barcode scanner which gives you the information about number of calories, ingredients used and many more when you scan the barcode of any food item. This helps you to take the decision whether to eat that or not. These things made it in to the list of best weight loss apps for your mobile.
MSN Health and Fitness
MSN Health and Fitness weight loss app is only for Windows users. Even though, it is available only for Windows users, it made it's entry in to the list of best weight loss apps for smart mobile is because of it's features. It includes diet tracker, which gives you the graphical view of your plan. With the help of GPS Tracker, you will get to know how many distance travelled and calorie burned.
Apart from just providing you the graphical data and tracking you, it provides you some fitness and weight loss manuals for free. These manuals are from the reputed companies and will really help you to achieve your goal in time.
Monitor Your Weight
Monitor Your Weight app asks you to enter your age, sex, height, current weight and other information. You need to enter the target you want to reach within a specified time and log what you eat daily. As mentioned in name, it asks you to enter the weight at specified times and provides you the feedback on that data. It tracks your progress and warns you when you are out of the target.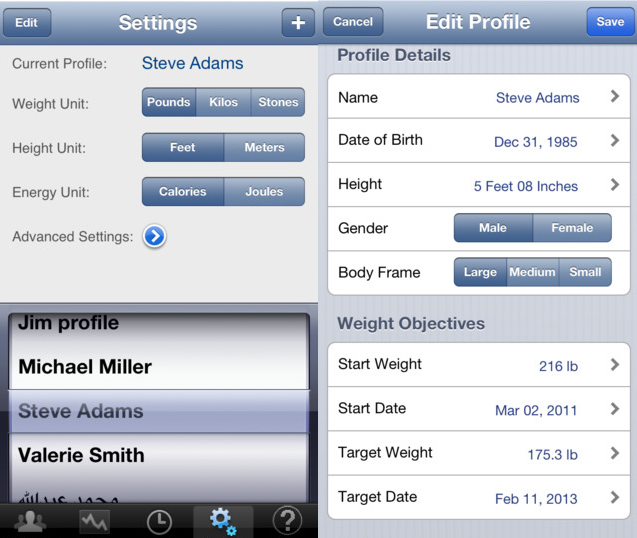 This allows you to create multiple profiles which are helpful to have two small targets, rather that the big one at single shot. It calculates the time required by you to achieve the goal based on your progress and guides you based on that. You can sync your progress with other devices and can also be exported.
These are some of the best weight loss apps for your Android, Windows and iPhone. If you have any more to add to the list, please do share with us through comments.